The late Steve Jobs called Apple TV a 'hobby' and the current Apple CEO, Tim Cook, reiterated this earlier this year. While the set-top box has sold in significant numbers in the last 12 months, and Apple just launched a third-generation Apple TV, most see it as simply a precursor to the much more important and hotly-anticipated Apple television set, or iTV.
Apple may be the largest company in the world in terms of market capitalisation, but compared to the likes of Samsung, it makes very few products. Along with iMacs, MacBooks and Mac Minis the company's leading lights are its iOS devices: the iPhone, iPad and iPod touch..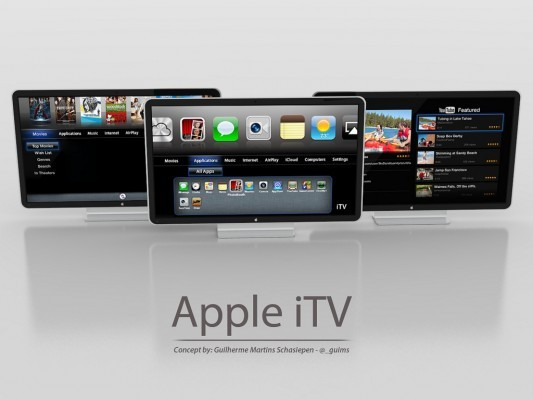 Add to this the Apple TV, a set top box which provides access to downloadable TV shows, movies and music via iTunes as well as some apps from Netflix, YouTube and the Wall Street Journal. While the latest version upgraded to allow support of 1080p content, the device is still relatively limited in what it can do.
Apple however is set to launch a television set which will integrate the functionality of the Apple TV but will add a whole lot more.
In the last couple of days a few very interesting piece of information about this new TV have emerged. The first relates to who will make the panel for the TV set itself and the financial results of a company called Hon Hai Precision Industry Co. were key to uncovering this piece of information.
Apple Television to feature Sharp screen
Hon Hai Precision Industry Co. is the parent company of Foxconn, which is the company which manufacturers pretty much all of Apple's iOS devices. Indeed Tim Cook is currently in China visiting one of these factioruies, which have been in the news recently for all the wrong reasons. So big is the relationship, that Apple now represents 45 percent of all of Hon Hai's revenue.
It emerged this week that Hon Hai had made an investment of $1.6bn in Japanese company, Sharp. The investment is part of a deal to overhaul Sharp's division for making LCD panels for televisions, according to a report in Focus Taiwan by Sofia Wu, and which will allow Hon Hai to maintain it's strong relationship with Apple.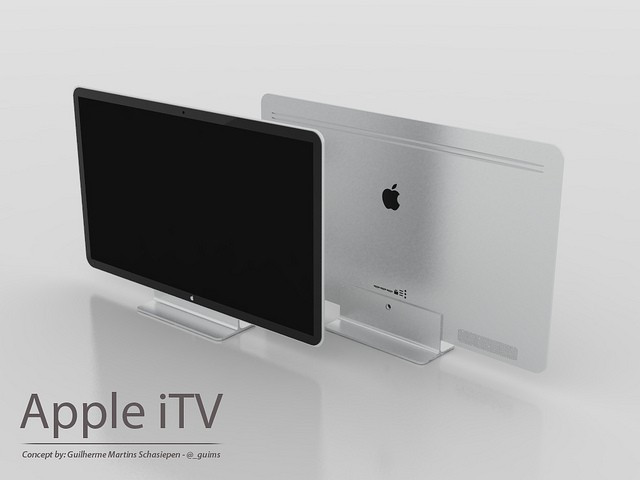 The reason Apple has chosen Sharp over its long-term partner Samsung is two-fold. On the one hand, Apple and Samsung are fighting patent battles around the globe, despite Apple giving Samsung over $7bn of business per year. This leaves a bad taste in the mouth.
The second reason is more important. "Sharp possesses a number of advanced technologies, including the IPS monitors used by Apple's newest iMacs. It also has other cutting-edge flat-screen technologies that could help strengthen Hon Hai's Apple supply chain," according to Wu.
Will the Apple TV have A Retina Display?
The cutting-edge flat-screen technologies mentioned include one based on the new material known as IGZO (Indium, Gallium, Zinc, Oxygen), which has an electron mobility 40 times greater than traditional materials such that a display's reaction speed can be more swiftly controlled.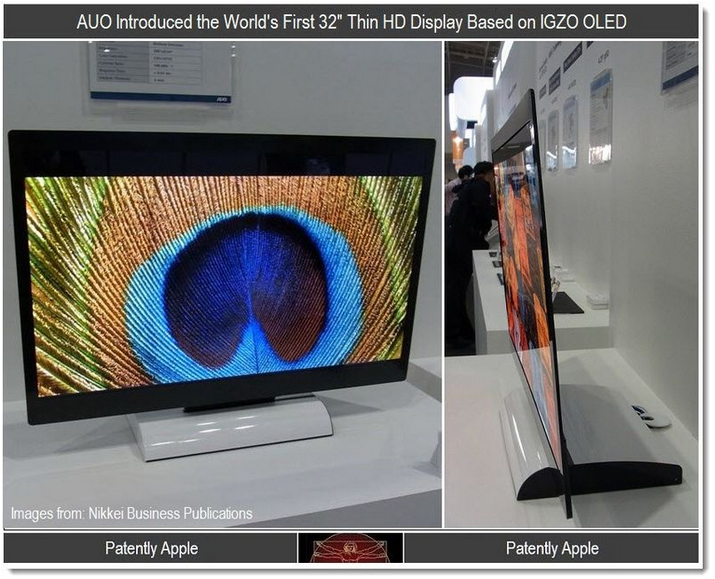 Reports have previously suggested Apple was going to replace the IPS panels in its iPhone and iPad with these new IGZO panels. However panels using IGZO-based OLED are not expected to be ready for a few more years and unless the investment from Hon Hai manages to hasten their development, we could be seeing IPS panels in the first Apple TVs if they are launched in the next 12 months.
But what about the resolution? According to Applied Materials in an interview with Technology Review, it said that it would be possible to fit four times as many pixels into a IGZO screen compared to a typical 1080p screen. While it may not have the pixel density of the iPhone 4 or new iPad Retina Displays, because you are sitting further away, it could be claimed to be a "Retina Display" by Apple.
According to PatentlyApple however the Cupertino-based company has also just been granted a patent for a little known technology called Fringe Field Switching (FFS). Previous versions of FSS couldn't accommodate large displays but Apple seems to have rectified this. The underlying technology is an off-shoot of IPS, called S-IPS.
It's a technology that provides superior performance and colour gamut with high luminosity and could therefore provide a solution in the short term while Apple waits for the IGZO technology to mature.
When will I be able to buy an Apple Television?
The iTV, or Apple TV, or Apple Television or whatever the marketers at Apple decide to call it, was initially reported to be launching in time for the Christmas rush at the end of 2012. However a report from an Asian research group today has dismissed that suggestions.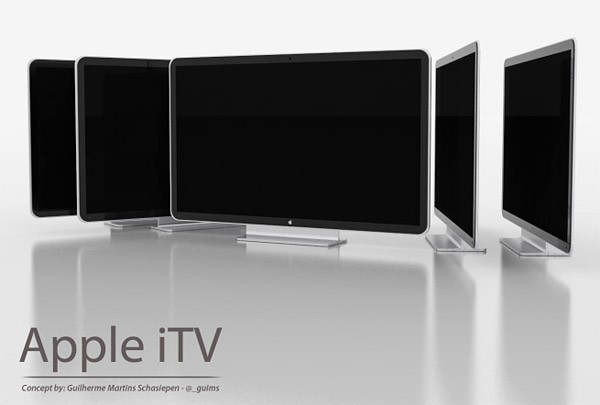 While the CSLA research note certainly dismissed claims the iTV is coming in 2012, it does however assert that an Apple television is in the works: "We continue to view Apple TV hardware as a 2013 event. The timing of Hon Hai/Foxconn's equity stake and partnership with Sharp along with Hon Hai Chairman Terry Gou's separate 46.5% investment in Sharp's Sakai City plant lends further credibility that Apple TV is in the works."
Apple are notoriously secretive about any new products and won't comment on them until they want to. This means the speculation will continue until Tim Cook takes to the stage and unveiles the final product.
In our opinion, an Apple television won't ship until 2013. Apple is known for only launching products that work, and work well. This means that it will need to get cable companies on board before launching the new TV set and this could take some time, especially if it wants to launch the television in multiple markets at once.
Will I be able to talk to my Apple TV?
All the rumours suggest that Siri will be making an appearance on the Apple Television, which will allow you to control it with your voice. This is nothing new however, as those with an Xbox and a Kinect have been able to do this for some time now.
However integrating this feature directly into the TV will be new but it won't be the only way to control your TV. As well as having a basic remote, you will be able to interact with your TV using your iPad, iPhone or iPod in a number of ways including AirPlay - letting you easily listen or watch your content on the TV.
The new television set from Apple will continue to give you access to iTunes content in the same way that the current Apple TV does, but it could also give you access to the App Store, which would open up a huge world of smart TV applications.
Will Apple TV have a touchscreen?
Another interesting feature which has been over-looked for the most part, is the possibility of having a touchscreen Apple TV. Apple's latest patent, makes reference to Ultra-FFS TFT-LCD. This technology is noted in the patent application as supporting "Super Image Quality, Fast Response Time, and Strong Pressure-Resistant Characteristics."
A paper by one of the people mentioned in Apple's patent application, Seung Hee Lee, says this Ultra-FSS technology supports touch inputs which means the possibility is there but whether or not Apple chose to implement it is another question.
The thinking is that Apple may implement it for larger business-orientated sets which could then be used for presentations and the like. One such implementation could be in hospitals where doctors could pull up X-rays, charts and medical files with a flick of their finger.
What TV channels will be available on Apple TV?
Apple is known for tying down its products so you cannot connect other devices to them easily, but Apple may need to rethink this strategy if it is going to launch a TV.
Most people currently connect their TVs to a set-top box from the likes of Virgin or Sky (in the UK) or else use a Freeview PVR to get access to the free digital channels available in the UK. If Apple wants to retain its one box solution, it will mean having to integrate a tuner into the Apple TV, which could limit the number of channels available.
A report in Canadian paper, The Globe and Mail, suggests that Apple is in talks with Canadian cable companies Rogers and Bell as launch partners, as Apple is looking for companies capable of offering broadband as well as TV channels - as connectivity will be very important to the new television.
How much will an Apple TV cost?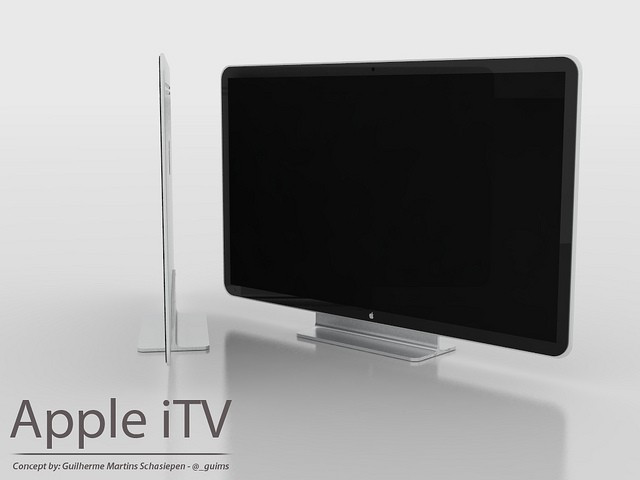 Apple is a premium, luxury brand, and while its iPad or iPhone are fairly competitively priced compared to the high-end Android smartphones and tablets, we would expect the Apple Television to come at a fairly high cost, compared to comparable 'regular' TV sets.
It is hard to come up with an exact price at the moment without knowing what size(s) it will come in, what features it will have, and whether or not it will be an all-in-one solution for your home entertainment needs.
If you already own a Mac, a MacBook, an iPad, an iPhone or an iPod touch (or indeed all of them) then the Apple TV will be an enticing prospect, considering all the ways these products will be able to work together. If however you are a newcomer to Apple, it may not be as easy a choice.