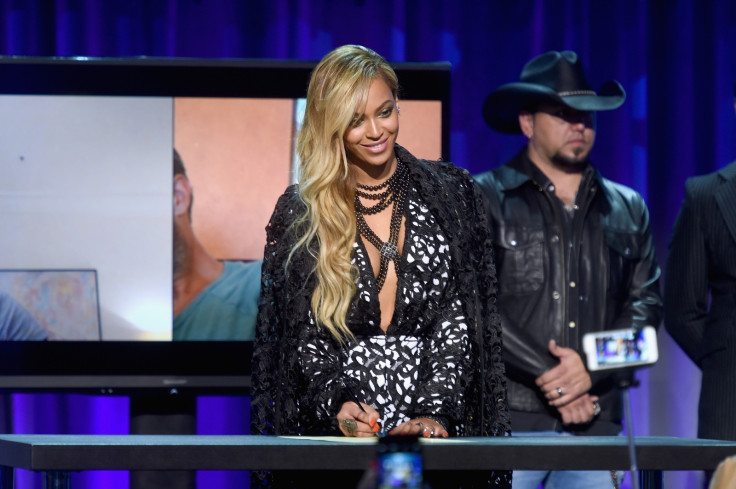 Beyonce is one of the most powerful pop stars on the planet but it is still impressive that the Flawless singer has gotten her hands on an exclusive gold Apple Watch that is not available anywhere.
On her website, the 33-year-old shared several photos of herself partying at Coachella music festival, with the wristband on prominent display.
Beyonce is the second person to be seen wearing the limited-edition watch with Chanel creative director Karl Lagerfeld spotted with Apple's latest release earlier in April.
The technology company have been gifting various celebrities with watches before the launch date, with Dark Horse songstress Katy Perry, Happy hitmaker Pharrell Williams, Young Money rapper Drake and Vogue editor Anna Wintour among the stars showing theirs off on social media.
Katy Perry:
Pharrell Williams:
Apple is believed to have begun taking orders for the Watch, with deliveries expected to start on 24 April. The Watch enables users to make phone calls when connected to their iPhones, send emails and listen to music.
There are three versions of the Watch available with the premium edition starting at $10,000 (£6,700).
Reviews have been mixed so far with Bloomberg noting: "The Apple Watch is cool, it's beautiful, it's powerful, and it's easy to use. But it's not essential. Not yet.
Yahoo commented: "In the end, therefore, the Apple Watch is, above all, a satisfying indulgence."
Queen Bey managed to make a relatively discreet appearance during the second weekend of Coachella. However, DJ David Guetta shared a photo of her hanging out with him on stage as he performed while photos have emerged of the 7/11 singer watching Drake's headline set with Nicki Minaj.