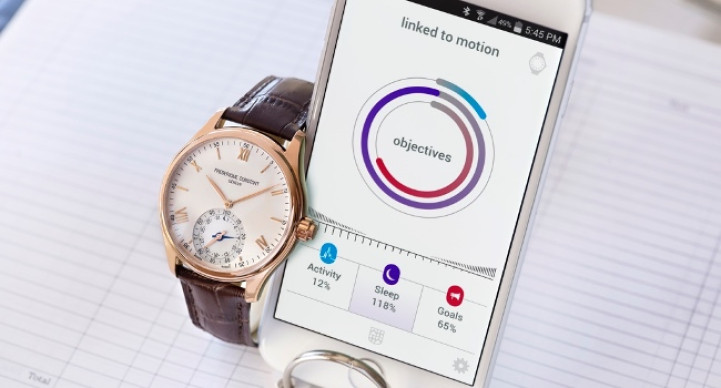 Baselworld 2015 will go down as the moment when Silicon Valley came to Switzerland, as watchmakers set in their traditional, mechanical ways for centuries warmed to the concept of smartwatches.
Initially they made for uneasy bedfellows, but look beyond the lack of a Rolex or Omega smartwatch and Baselworld produced a wide range of smart (or rather, smarter) watches worthy of making both tech companies and watchmakers sit up and pay attention.
Tag Heuer, Google and Intel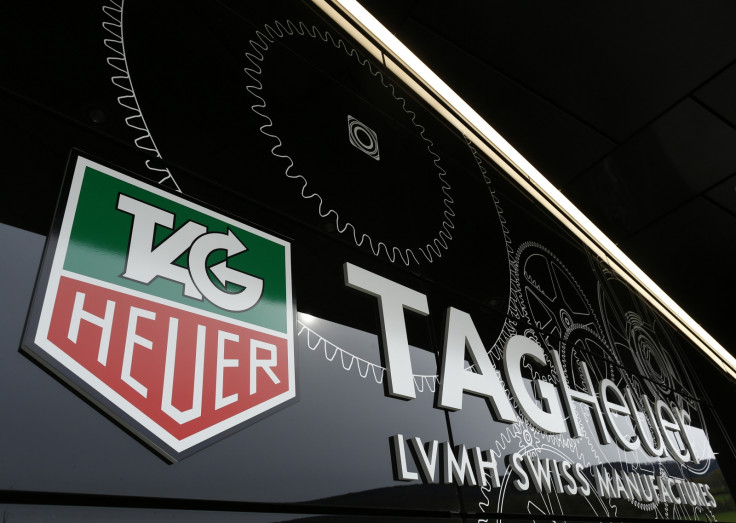 The biggest smartwatch news to come from Baselworld was that Swiss luxury watchmaker Tag Heuer has partnered with Google and Intel to produce a smartwatch running Android Wear. The device was not shown and the company gave no details on price or what features we should expect.
All Tag Heuer chief executive Jean-Claude Biver said was that the Tag smartwatch would look like a regular watch and be 80% Swiss - although he concluded that, under current legislation, it could not be called Swiss Made, due to the processor coming from abroad. Given Tag Heuer watches start at around £900, this will take Android Wear into an entirely new market of luxury smartwatches.
Biver said the watch will arrive at the end of the year, sometime between October and late December.
Bulgari Diagono Magnesium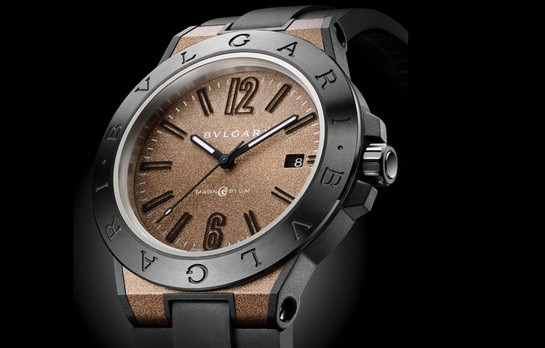 Italian watchmaker Bulgari used Baselworld to announce the Diagono Magnesium, a mechanical, self-winding watch that is 100% Swiss made, but includes an NFC chip which can be programmed by a companion smartphone app to make contactless payments, unlock doors, and "get exclusive access to a VIP lounge".
Bulgari also says a microchip inside the watch will act as an electronic safe to keep your personal data protected, although it is unclear what exactly this means. No indication on price or release date, although being Swiss and fully mechanical you can be assured that it won't be cheap.
Vector Luna and Meridian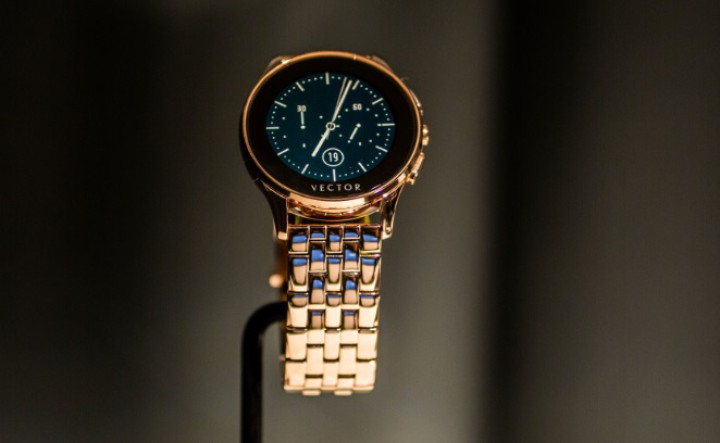 Treading a different path to everyone else, Vector announced a smartwatch which runs its own operating system, is compatible with both iOS and Android phones, and has a battery life of 30 days, it claims. This is achieved by using a monochrome display, instead of the full-colour screens seen on other smartwatches, and by not showing notifications (signalled with a vibration) until the wearer lifts their arm. That way, the screen does not light up with every incoming text, email and Facebook message.
The watch is available with either a round or square face and both have interchangeable 22mm leather straps. Activity tracking and traditional watch functions like a stopwatch and multiple time zones are also included, plus integration with third-party applications from smart thermostat company Nest, IFTTT (If This Then That) and others.
Victor will be pricing the round-faced Luna at $349 (£235, €325) and the square-faced Meridian at $199. A release date has not been announced, but Victor is now asking developers to create apps for its new operating system so when the watch launches it can hit the ground running.
Frederique Constant Horological Smartwatch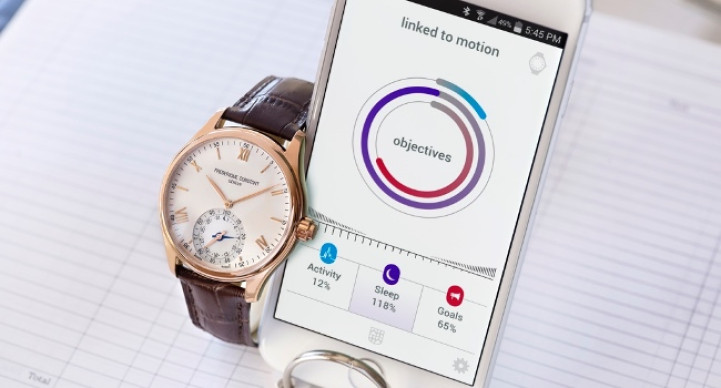 Featuring the same MotionX fitness tracking technology used by products from Jawbone and Nike, this smartwatch has all the aesthetics of a traditional Swiss watch, but its analogue face hides a digital heart. The Horological can track steps and sleep patterns, which it then compares to millions of nights of sleep gathered by MotionX users all over the world.
Similar to the Withings Activite, a second dial shows what percentage of your daily step goal has been completed, and how much sleep you had the previous night.
The watch comes with a case made of stainless steel or rose gold plating and with leather straps available in either black or brown, plus a steel bracelet option. Using Bluetooth, the watch connects to the MotionX-365 smartphone apps for iOS and Android.
There is no price yet - expect it to be four-figures - and the watch will be available in more than 100 countries from June.
Mondaine Helvetica No1 Horological Smartwatch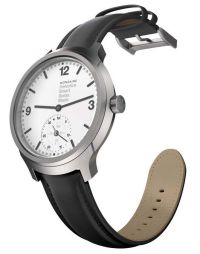 Taking a very similar route to Frederique Constant, Swiss watchmaker Mondaine - famous for producing the country's railway clocks - announced the Helvetica No1, an analogue watch with Bluetooth and sensors to record movement and sleep. The same MotionX smartphone app is used to analyse data collected by the watch, and there's a dial to show your daily steps and sleep.
The Helvetica has a brushed steel case, sapphire crystal glass and a black leather strap, making it look like any other analogue watch. Mondaine claims the battery will last for two years and it will go on sale in the autumn; the price is expected to be between £500 and £1,000.
Breitling B55 Connected
The company's first connected watch, the B55 Connected by Breitling pairs analogue hands with two digital displays for showing lap times, alarms and other time-centric data. There are no Facebook notifications or emails, but the accompanying smartphone app can be used to change time zones and set alarms.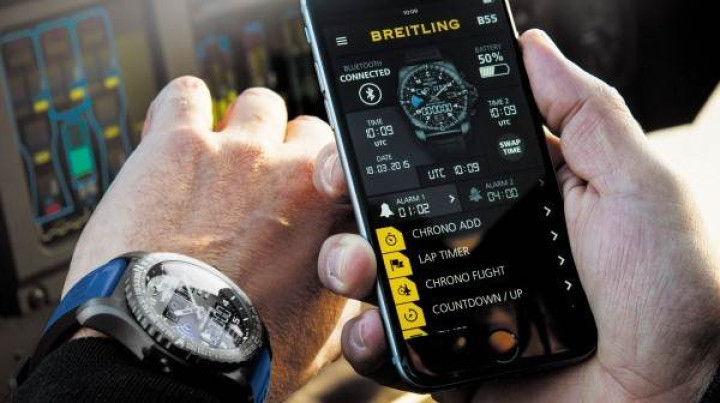 As with many of its watches, Breitling is targeting the B55 at pilots, who can record flight times and sync this data to the phone app for logging and sharing. Described as a new-generation connected chronograph, the B55 has a quartz movement instead of being mechanical.
Prices and availability are expected to be announced soon.
Kairos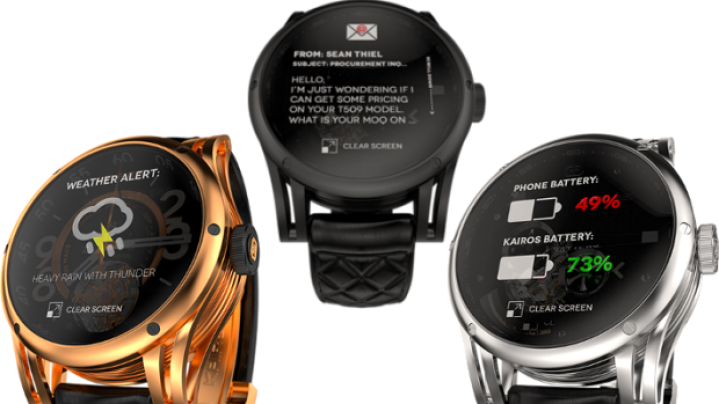 One of the first luxury smartwatches to break cover at Baswelworld was the Karios, a mechanical watch which has a semi-transparent OLED screen over the front of its face. The colour screen delivers notifications while still letting you see the watch hands and intricate movement underneath.
Karios says the watch will work with iOS, Android and Windows Phone devices though a companion app and a Bluetooth connection. As well as displaying the time and notifications, the watch also tracks your movement and sleep (using tech borrowed from Misfit) and can be used to control your smartphone's camera and music playback.
Battery life is claimed to be between two and three days - more than the one-day Apple Watch - and Kairos will sell the watch in numerous styles and materials at prices ranging from $549 to $1,249. Pre-orders are open now.
Gucci and Will.i.am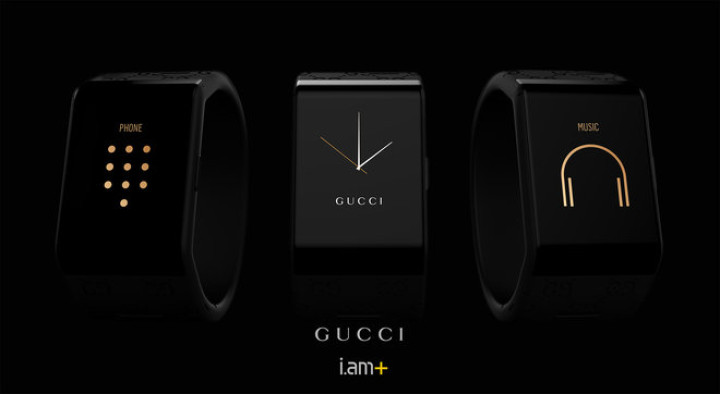 Finally, a technological invasion wouldn't be complete without a high-profile celebrity endorsement. Musician Will.i.am partered with Gucci to launch a 'luxury smartband' called the i.am+. The wearable has its own 3G connection for handling calls and text messages without needing to be connected to a phone, and there is the usual set of features, including voice control, notifications, fitness tracking and a "sophisticated personal assistant."
Both Will.i.am and Gucci CEO Marco Bizzarri were seen wearing early prototypes of the smartband at the announcement in Switzerland, but details regarding a full feature set, price and release date were not revealed.
No stranger to the wearables market, in 2014 Will.i.am announced the Puls smart wristband. Although it offered innovations like a large battery built into its strap, the Puls was poorly received by the technology press.