Apple could be set to expand its wearable tech offering after patents were released showing its designs for a Smart Ring device. The finger-mounted computing device is packed with motion sensors, a microphone and touch display that could see it being used as a controller for its family of products.
The patent was published by the US Patent and Trademark Office with the title "Devices and methods for a ring computing device" and documents illustrating how it is worn on the index finger and controlled via a touchpad using the thumb.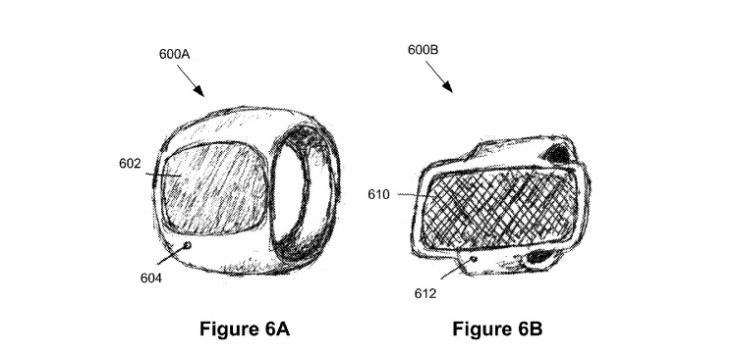 It could work as an add-on device for Apple TV, MacBook or, even more excitingly, as remote for the much-mooted Apple television set. It's certainly not short on features with haptic feedback, inductive charging, voice command with Siri, wi-fi, Bluetooth, NFC for mobile payments and gesture control so you could operate devices by simply waving your hand in the air.
Interestingly, there are also front and rear cameras – but as to what you would do with those on a ring we haven't the faintest.
As to what material it could be made from, there is a list from gold and platinum to silicone. It also sports a clever fitting function where it automatically adjusts its size to the wearer's finger.
Apple's step into the wearable scene with the Apple Watch may have been late but it's been well-received. Should Apple ever release an "iRing" you can be sure many fans would find space on their fingers for it. However, there have been a multitude of patents from all companies, not just Apple, that have never made it past the designer's sketchpad.
Would you buy an Apple ring? Do we need an Apple ring? Share your thoughts by tweeting us @IBTimesUKTech