Two more women have come forward alleging they were sexually assaulted by Donald Trump. One of the accusers is a former contestant on the US version of The Apprentice.
Summer Zervos, 41, who appeared on the fifth season of the reality show, said she was meeting the GOP candidate at the Beverly Hills Hotel in Los Angeles in 2007 to discuss a business proposition, when he made unwanted sexual advances towards her.
Recounting the details of the alleged encounter through her lawyer Gloria Allred at a press conference in LA, she described how he kissed her 'open mouthed' multiple times, and despite her repeated attempts to push him away, placed his hand on her breast.
"I assumed we were going to a restaurant in the hotel. Instead, I was taken to a bungalow," she explained. '[H]e came to me and started kissing me open-mouthed as he was pulling me toward him. He then grabbed my shoulder and began kissing me again very aggressively and placed his hand on my breast,"' she said, breaking down as she spoke.
She explained how she moved to the other side of the room to create some distance between them, but the property mogul asked her to come and sit next to him. He then allegedly persuaded her to join him in the bedroom, convincing her to lie on the bed to watch 'telly-telly.'
Zervos said she repeatedly pushed him away, however he continued to grab at her. "He put me in an embrace and I tried to push him away. I pushed his chest to put some space between us, and I said, 'come on, man, get real.' He repeated my words back to me, 'Get reaaaaaal,' as he began thrusting his genitals. He tried to kiss me again, and with my hand still on his chest I said, 'Dude, you're tripping right now,' attempting to make it clear I was not interested."
Zervos said she felt compelled to speak up about the incident after hearing the 70-year-old's lewd comments about women in a tape recording on Access Hollywood, in which he claimed that he could get away with groping women because he is a "star."
"After hearing the released audio tapes and your denial during the debate, I felt I had to speak out about your behavior," she said. "You do not have the right to treat women as sexual objects just because you are a star.'
According to Mail Online, in an impassioned statement celebrity lawyer Gloria Allred condemned Trump as she spoke on behalf of his growing number of accusers. "Today another woman has courageously come forward to accuse Donald Trump of engaging in an inappropriate sexual conduct with her. A number of women have come forward who claim that it was more than just talk," she said.
"He allegedly accosted a woman on an airplane, pinned another against the wall and shoved his tongue down her throat, walked into beauty pageant dressing rooms as though he owned the women and that he had the right to look at them naked or partially clad at his pleasure, including teenagers.
"To all these women Donald issues staunch denials and threatens to sue the newspapers that report their accusations. He thinks that he can say whatever he wants and then muzzle his accusers."
Questioning his political ambitions she added: "Donald, before you can become President of the United States you must first learn how to treat women with respect. Your words and your alleged actions convey the exact opposite. Your words alone, as captured on tape are disgraceful and suggest a belief system which is far below the dignity of the office that you seek.
"The White House is not a locker room and the American people deserve better than a President who believes that he is entitled to grope and grab and sexually assault women at his pleasure."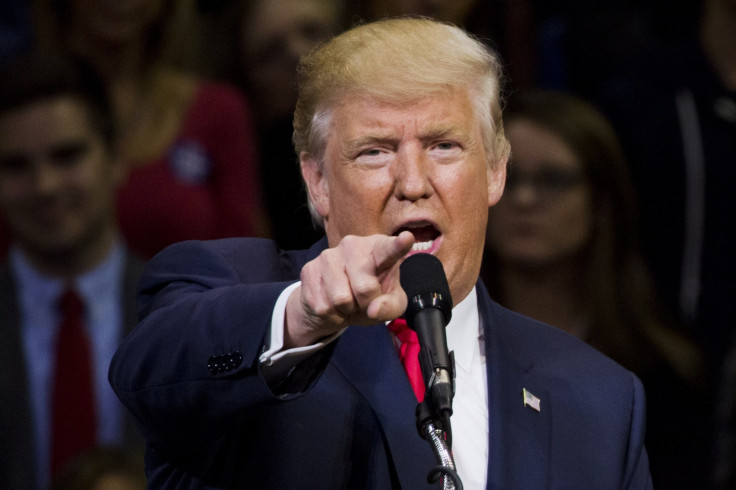 A second accuser has alleged that the Republican White House candidate groped her in a Manhattan nightspot, according to Sky News. Kristin Anderson, told the Washington Post that she was sexually assaulted by Trump in a New York Club in the early 1990s. She alleges that he put his hand up her skirt and touched her underwear as she sat on a couch with friends.
"He was so distinctive looking - with the hair and the eyebrows. I mean, nobody else has those eyebrows," she said.
Trump has vehemently denied all the allegations of sexually impropriety against him, claiming his accusers are seeking publicity and insisting their accounts of the alleged encounters are fabricated.
In a statement his campaign spokeswoman said: "Mr. Trump strongly denies this phony allegation by someone looking to get some free publicity. It is totally ridiculous."
Following the release of the 2005 Access Hollywood recording, Trump issued a video statement apologizing "if anyone was offended" but insisted his lewd talk was "locker room banter".