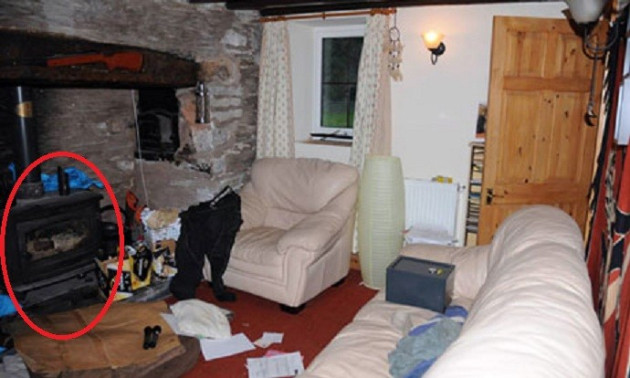 The jury in the April Jones murder trial has been taken to the home of defendant Mark Bridger and shown the stove where police said they found a child's bones.
Five-year-old April vanished from outside her home in the Welsh village of Machynlleth in October. Bridger, 47, is accused of abducting and murdering her. He also faces a charge of perverting the course of justice.
Police who searched his home the day after April went missing reported that the room in which the stove sat was "uncomfortably hot", the court heard.
Earlier on the same day, a police helicopter captured images of smoke pouring from the chimney.
Also found in the wood-burning stove was a charred boning knife. Bridger was an experienced slaughterman.
Other pictures of his home revealed boxes of cider in the lounge. Bridger told police he was an alcoholic and had been drinking heavily on the day April disappeared.
In other images released by police, a pair of trousers lies on a chair and other items of clothes are strewn about the house. Bridger told detectives that he often slept downstairs.
Spots of April's blood were found on the stove, as well as beneath a carpet and on grouting between tiles, prosecutors told the court. On a washing machine was found what may have been a bloody fingerprint.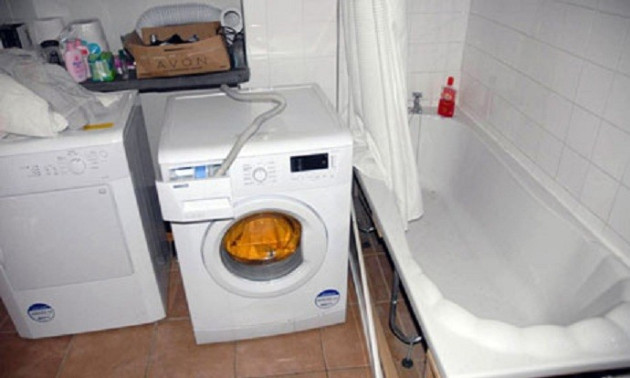 Police officers searching the property said they smelt detergent and found newly laundered clothes when they visited.
Prosecution lawyers said Bridger had tried to cover up his crime by cleaning up. They claimed he had a sexual motive for the attack.
Jury members travelled by coach to Bridger's home in the tiny village of Ceinws, three miles from Machynlleth. They were taken around the property in groups of four at a time because of its small size.
Elwen Evans QC, prosecuting, asked Mold Crown Court: "What happened to April there? She lay bleeding in front of the fire in the defendant's living room. One person knows and he is not prepared to say."
Bridger denies murder. The trial continues.