The man accused of abducting and murdering schoolgirl April Jones invited another girl to his home for a sleepover the day the five-year-old disappeared, a court has heard.
Mark Bridger, 47, is also accused of looking at child porn hours before he allegedly abducted April outside her home in Machynlleth, mid-Wales on 1 October 2012.
Bridger admitted he "probably" killed the five-year-old, but said he does not remember what happened to her body, which has never been found.
During the second day of the prosecution's opening case, Mold crown court heard how Bridger approached two girls aged eight and 10 on the evening April disappeared after he attended a school parents' evening.
He then invited the 10-year-old, who was friends with his daughter, over to his house for a sleepover, the prosecution claims.
Elwen Evans QC, prosecuting, told the jury: "He wound the window down and there was a discussion during which the defendant invited one of the girls to a sleepover with his daughter. She declined and he drove off."
The jury were also shown images taken from Bridger's laptop, which included images of girls downloaded from Facebook as well as illicit content.
The court heard that just hours April went missing, the 47-year-old viewed a pornographic cartoon which depicted a young girl being gagged and rapped.
Bridger had also searched online for "British girl murdered in France", "ten year old girls naked", and "pictures of ten year old girls".
The court previously heard Bridger also had images of murdered Soham schoolgirls Holly Wells and Jessica Chapman on his laptop and pictures of April's half-sisters aged 13 and 16. He is accused of having a "sexual motive" behind murdering April.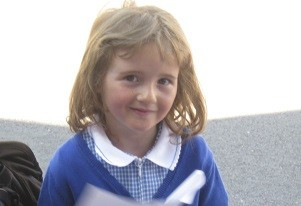 The court also heard how Bridger had attempted to give an "excuse" to police why there could be traces of April's DNA on his penis after he was arrested.
Evans said Bridger told officers that "if there was any of April's DNA on his penis it might be there because he had been for a wee while carrying her".
She added: "This is a man, we say, who is forensically aware. He knew how important it was from his point of view to try and get rid of any forensic scientific evidence linking him to April."
Later tests found there was no DNA evidence on the defendant's penis, the court heard.
Nothing left worth fighting for
The jury was also shown text messages sent by Bridger on the day of April's disappearance to his ex-girlfriend Vicky Fenner and employer.
The jury heard how he and Fenner had recently broken up and on the morning of 1 October Fenner texted him saying: "Couldn't leave it without saying goodbye... maybe see you around okay."
Bridger replied: "You were my life babe, my everything... for what it's worth I'm still in love with you."
After a series of texts between the pair, including Fenner reassuring Bridger that she still loved him, the 47-year-old responded: Bridger responded: "So there's nothing left at all worth fighting for?"
Bridger text his employer to ask: "Do you mind if I take today off to get my head around things? Sorry to let you down."
Bridger, of, Ceinws, denies abducting and murdering April, and unlawfully disposing of and concealing her body with intent to pervert the course of justice.
He claims he killed the five-year-old after accidently hitting her with his Land Rover but then "blanked out" afterwards and cannot remember what he did with her body.
The prosecution dismissed calims the five-year-old died as a reasult of a car accident.
After showing photographs of Bridger's car, Evens told the jury: "There is no evidence of a road collision, no evidence of blood here, torn fabric, or indication April Jones had been hit or run over.
"Nothing on the body work, the side, the wheels to suggest impact with a body or a bicycle."
Traces of blood and burnt bone fragment believed to be from the five-year-old girl's skull were found at the home of Bridger, a jury was told on the first day of trial.
He is accused of playing a "cruel game" by telling claiming he does not know what happened to April's body.
The search for April was one of the biggest in police history.
The trial continues.