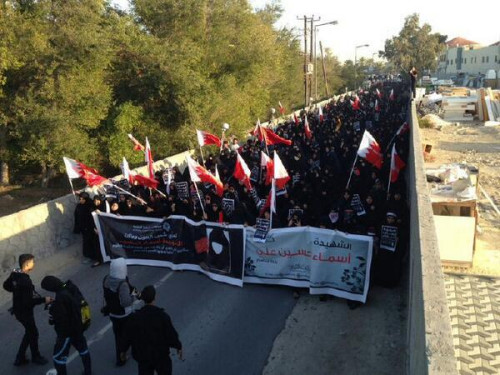 A bomb blast during protests marking Bahrain's third anniversary of the Arab spring-inspired uprising has claimed a police officer's life.
He was one of two wounded policemen in the blast at the predominantly Shiite village of Dair. Three other policemen were injured in a separate explosion at Daih village, about 14 km (8.6 miles) away, the interior ministry said on Twitter.
The wounded policemen at Dair were on duty to secure the roads, while the personnel injured at Daih were travelling on a bus when the blast occurred, according to an AFP report.
The demonstrators attempted to reach Pearl Square, the site where police had brutally suppressed the uprising about three years ago in the capital Manama.
Protestors were demanding more rights and an end to discrimination against the Shia minority as the explosions went off.
Police personnel are also said to have fired tear gas shells to disperse them, to which the demonstrators responded by throwing petrol bombs.
"Some villages saw rioting, vandalism and the targeting of policemen. This required police to respond to these criminal acts through legal means," the interior ministry said.
At least 26 people were arrested in connection with rioting and vandalism.
The crackdown on the uprisings has claimed about 90 deaths in the last three years, according to the International Federation for Human Rights.
s.