The leader of a South London-based Maoist cult who raped and sexually assaulted his followers and also imprisoned his daughter for more than 30 years has been sentenced to 23 years in jail. But just who were the group of people in the Brixton flat over whom he managed to exercise an unnatural influence for so long?
Balakrishnan was found to have used a campaign of intimidation and violence to control the women for decades, including his own daughter, who described how she was "deprived of a normal life" by living with cult, including not being able to go to school or even leave the house unaccompanied.
Balakrishnan was eventually arrested after his daughter, who can now be named as Katy Morgan-Davies after she waived her anonymity, managed to escape the house, where she lived for 30 years, and speak to police along with two other women.
Police originally described the case as "something never seen on this magnitude before" and believed the other two women had met the 75-year-old through a "shared political ideology".
It soon emerged that the India-born Balakrishnan was once the leader of a short-lived fringe far-left group based in Brixton called the Workers' Institute of Marxism-Leninism Mao Zedong Thought, whose manifesto revolved around worshipping former Chinese dictator Chairman Mao and attempting to build a "red base" in Brixton.
Balakrishnan, also known as Comrade Bala, formed the group after he was suspended from the Communist Party of England in 1974 after launching an "entirely unprovoked and thoroughly unprincipled external attack on the party", according to Marxist archives.
The group's headquarters were in Acre Lane, Brixton, known as the Mao Zedong Memorial Centre. Oxford University Professor Steve Rayner, director of the institute for science, innovation and society, researched the cult in the 1970s, said it had chosen this area of London as they believed it was the "worst place in the world".
Rayner told IBTimes UK: "It was always clear that Balakrishnan was something of a fantasist and was already talking about how the Chinese would take over the earth through satellite warfare in the 1970s. He maintained a powerful psychological hold over the group, mostly made up of vulnerable overseas students, far from home and family, by offering them an enfolding space from which they were terrified of being expelled as 'class traitors' and 'police spies'."
Robert Griffiths, general secretary of the Communist Party of Britain, described the Maoist group as the "breakaway of a breakaway of a breakaway", adding that no one had really heard anything about them or any of their members "for decades" prior to Balakrishnan's arrest in November 2013.
He told Channel 4 News at the time: "If one were to be brutally honest they were more of a psychiatric interest than political interest. They had nothing to do with the mainstream left-wing and communist politics of the day."
The group only came into wider attention in 1977, when they were mocked in the Times' after their diarist came across some of their readings. The group are also believed to have been the inspiration for the BBC's Citizen Smith, in which Robert Smith played a Marxist hoping to organise a revolution in south London by heading the Tooting Popular Front.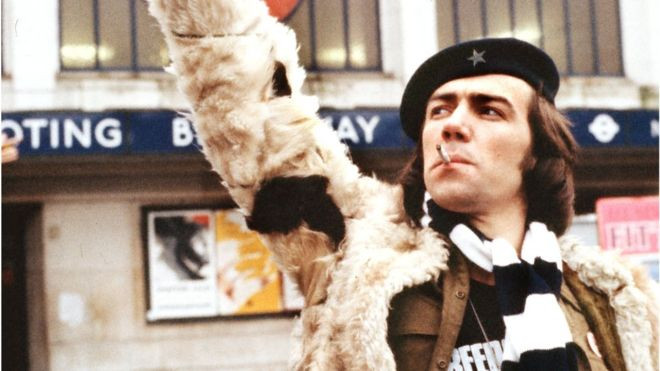 Balakrishnan's group were also mocked in Marxist archives which described them as "truly the most lunatic of the lunatic fringe of left politics in Britain". The Archives added the group are: "Tiny in numbers and fanatical in zeal, carrying dogmatism, rhetoric and sectarianism to ever greater extremes, it is many people's idea of a typical Maoist group."
In Rayner's thesis on the group for the University College London in 1978, he described Balakrishnan as a "titular secretary" although his style of leadership is closer to that of a "big man than a chief". He described how the few members "talk of little else" apart from their beliefs and are rarely to be seen without their prominent Mao badges.
"Political co-operation with other groups is rejected. The Institute is extraordinarily hostile to other left-wing organisations most of which they see as agents provocateurs for the state. Similarly, work in the trades unions is rejected by the Institute because all established Labour movement structures are simply 'organs of Fascism'.
"When disciplinary action is taken against any member of the Institute, the sanction is almost invariably expulsion. Balakrishnan has spent several short periods in prison on remand and on minor theft charges. Upon his release from one sentence, he initiated expulsions against three of the members who had provided the leadership during his absence from the centre. It seems reasonable to regard these expulsions as measures designed by Balakrishnan to re-establish his hold over the organisation by using the only available effective sanction against his opponents."