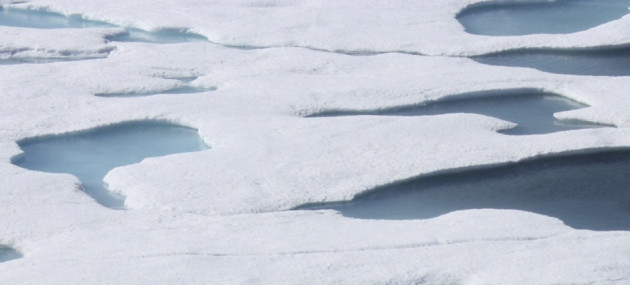 A huge supertanker was on course to make navigation history by becoming the first ship of its kind to cross the top of the world from Scandinavia to Asia.
If the 100,000-tonne Ob River LNG vessel docks in Japan with its cargo of gas from Norway, it will have made the world that little bit smaller and usher in a new era of nautical navigation by opening up to commercial traffic a part of the planet that used to be impassable.
The voyage is only possible now because of the disappearance of pack ice from the Arctic, which means a route through the Northeast Passage, also known as the Northern Sea Route, is possible.
Greenpeace said the achievement was a dark example of the impact of climate change.
The Ob River was being sailed by a 40-strong international crew north of Russia. After tracing that northern coastline, the course is due to move south towards Japan. The new route will lop 21 days off the journey.
The voyage was hailed by the ship's owner as an "extraordinarily interesting adventure". Dynagas owns the vessel, which has been chartered by Russian energy giant Gazprom to transport 150,000 cubic metres of gas from north Norway to the Far East.
Commercial director Tony Lauritzen said: "The people on board have been seeing polar bears on the route.
"We have studied lots of observation data - there is an observable trend that the ice conditions are becoming more and more favourable for transiting this route.
"You are able to reach a highly profitable market by saving 40 percent of the distance - that's 40 percent less fuel used as well."
But Greenpeace was less happy about the implications of the voyage. "The real lesson we should be learning from this unprecedented crossing is that our fossil fuel use has changed our climate so radically that the results can be seen from space," a spokesman told IBTimes UK.
"Seeing the impacts of climate change as an opportunity to expand the fossil fuel industry is not an encouraging sign for our species."
Business considerations were at the heart of the journey. Asia is becoming a far more important gas market as the US strives for energy security by exploiting recent developments in shale gas extraction at home.