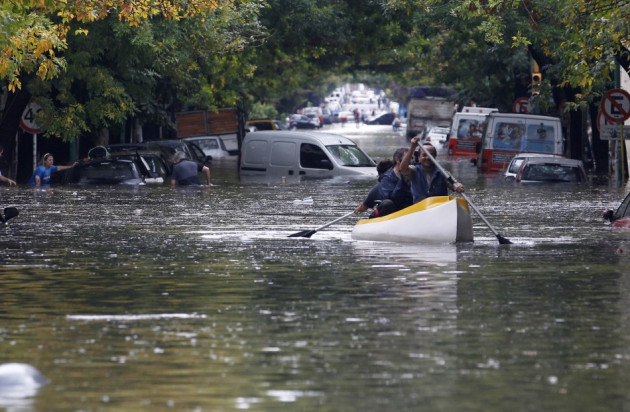 Flooding in Argentina's Buenos Aires province killed at least 31 people, officials said.
Stormy weather and heavy rains hit the country's capital of Buenos Aires and then moved on to the city of La Plata, bringing death and disruption.
"Such intense rain in so little time has left many people trapped in their cars, in the streets, in some cases electrocuted. We are giving priority to rescuing people who have been stuck in trees or on the roofs of their homes," Governor Daniel Scioli said. "[La Plata has never seen anything equal."
In La Plata about 16 inches (400 millimeters) of rain fell in n a matter of two hours, leaving streets and cars completely submerged.
At least 25 people were counted dead in the area, adding on the six who had earlier lost their lives on Buenos Aires.
Scioli said many of the deaths drowned in La Plata's distrlic of Tolosa, after trying to take shelter in their cars.
In La Plata, flooding hit also Argentina's largest refinery, triggering a fire that took hours to put out, but caused no injuries.
As a result State-run YPF oil and gas company suspended operations at the refinery and sent an emergency team to evaluate the situation.
"This is the biggest weather-related disaster in the city's history," provincial minister of justice and security Ricardo Casal said, adding that more than 1,500 people had been evacuated so far.
"There's no power in nearly the entire city," Casals said. "Water has wiped out [La Plata's] town centre surrounding neighbourhoods such as Tolosa, Elvira, Los Hornos, with as much as 2 meters of water, and people are on their roofs."