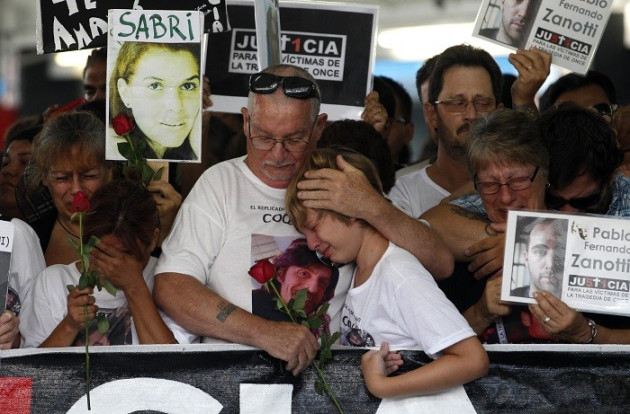 A commuter train has crashed in Buenos Aires, Argentina, seriously injuring around 100 passengers.
Among the injured was an eight-year-old boy, according to the Security Secretariat. Five people also suffered broken bones and others were hurt by flying glass when the train's window shattered.
Jorge Ramirez, a chef who got on the train nine stations before the end of the line, told the AP news agency the accident was "a tragedy".
"I saw people hurt, shouting, others thrown on the floor. The people in the first wagon ended up piled on top of each other," he said.
Local health chief Graciela Reybaud said: "Ninety-nine patients have been treated at Buenos Aires hospitals."
Security chief Sergio Berni told local television that "there are no fatalities for now".
The train is thought to have failed to stop at the end of the line, and ploughed into the station buffers.
Officials said they did not know what caused the accident, although an eye witness reported that the train seemed to have trouble with its brakes at the two previous stops.
The injured were rushed to about a dozen nearby hospitals via some 30 ambulances and two helicopters.
Passengers described a scene of horror and chaos as people were thrown to the floor when the train was derailed.
One witness said some passengers accosted the train driver.
"People were shouting 'murderer' at him," said an eye witness, who was a passenger in the third car.
Police in riot gear had to take control of the station after the furious crowd broke glass and threw stones in the street outside.
The train driver sustained some injuries and was detained by police, according to the driver's union.
In February 2012, more than 50 people died and 700 were injured when a train hit a wall at the same station in Buenos Aires.
There have been many other incidents, including a serious collision in June 2013, when a speeding commuter train slammed into another train that had stopped between stations, killing three people and injuring more than 300.
Transport Minister Florencio Randazzo said video images taken from the surveillance cameras showed drivers nodding off, on the phone or reading, sometimes with their hands completely off the controls.
A driver seen struggling to keep his eyes open "has already been relieved of his duties," Randazzo said.