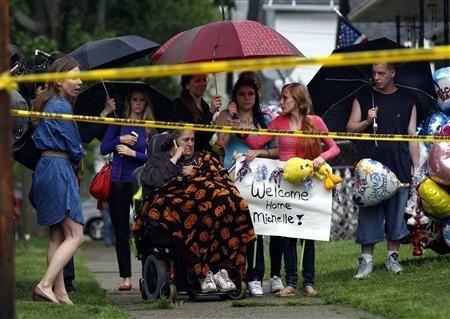 The youngest of four women who were kidnapped and held for a decade in a dungeon in Cleveland, US, was discharged from hospital last night and put into police protection.
Michelle Knight, 32, was freed from captivity in the basement of the house, along with Amanda Berry, 27, Gina DeJesus, 23, and a six-year-old girl, on Monday 6 May.
All three women had vanished between 2002-4 after being offered a ride by their abuser, Ariel Castro, in the same neighbourhood in which they were eventually found.
Berry, DeJesus and the girl left hospital earlier in the week.
Knight, 32, who is estranged from some family members, according to her grandmother, was released early on Friday afternoon from MetroHealth Medical Center, which issued a plea to respect her privacy.
Before her discharge, MetroHealth said in a statement she was "in good spirits".
DNA tests have identified Castro, 52, a former school bus driver, as the father of the girl born in captivity to Berry, the Ohio attorney general said on Friday.
Castro was arrested shortly after the four captives were found in his house in a run-down neighbourhood of Cleveland last week.
Attorney General Mike DeWine said forensic scientists "worked throughout the night to confirm that Castro is the father of the six-year-old girl born in captivity to one of the kidnapping victims".
Berry's baby was born in an inflatable children's paddling pool on Christmas Day, 2006, authorities said.
Knight told police she delivered the baby under Castro's orders after he threatened to kill her if the baby died. She said she had performed mouth-to-mouth resuscitation when the baby stopped breathing during the birth, according to a police report.
Castro's DNA is being checked against other cases nationally, DeWine said.
The Cuyahoga County prosecutor have said he will press for murder charges against Castro carrying a possible death penalty, after evidence suggested Knight suffered forced miscarriages.
She told police she suffered at least five miscarriages that were deliberately caused by Castro, who starved her and beat her in the abdomen, according to an initial police report.
During their captivity, police said, the three women endured beatings, rapes and confinement in ropes and chains.
Investigators found a lengthy note written by Castro detailing his own sexual abuse and talking about suicide, a city councilman said on Friday 10 May.
"He alluded to his own sexual abuse.... Presumably it was when he was young," said councilman Brian Cummins. "And if he was to carry out his suicide, he wanted to split the money from his house between the three women."
Castro also wrote "it was the victims' fault" that they were abducted, Cummins said, in an attempt to "deflect the blame away from himself" .
Neighbours broke through a locked door and freed Berry after responding to cries for help from the premises.
Castro appeared in court for the first time on Thursday 9 May to face three counts of rape and four counts of kidnapping. He was remanded in custody on an $8 million bond.
County prosecutor Timothy McGinty, who has jurisdiction over Cleveland felonies, said he intended to expand the charges.
"I fully intend to seek charges for each and every act of sexual violence, rape, each day of kidnapping, every felonious assault, and each act of aggravated murder for terminating pregnancies that the offender perpetrated," he said.
Under Ohio law, the crime of aggravated murder includes the unlawful termination of a pregnancy, and is a capital offence.
Castro's lawyer, Kathleen DeMetz, said her client would be held in isolation and placed on suicide watch.