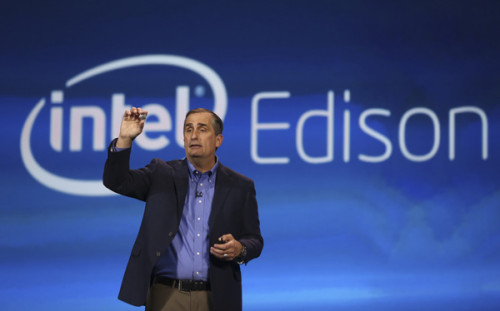 At his first CES keynote as Intel CEO, Brian Krzanich made a big play for wearable technology in 2014. He spoke eloquently about moving from "a world of screens and devices to a world of immersive experiences."
The problem is that the world has already moved, and just like missing the boat on mobile, Intel is now playing catch-up in the new revolution in computing – known as the Internet of Things.
That is according to the Antonio Viana, executive vice president of commercial and global development at ARM, the UK-based company which creates and licences chip designs for everything from smartphones and tablets to washing machines and fridges.
"Just like with the mobile space [Intel] missed that one and [Intel is] in catch-up mode, and I'd say in the Internet of Things [Intel is] in catch up-mode again."
Small but beautiful
Viana was speaking to me in ARM's tiny booth at the anonymous end of South Hall 2 at the International Consumer Electronics Show in Las Vegas last week, surrounded by a myriad of companies selling HDMI cables and glittery iPhone cases, hidden from view of most visitors.
But this is the way ARM likes it, it is happy to remain in the shadows and let its partners talk about the products which are based on ARM's technology.
Intel's booth by comparison is one of the biggest and flashiest at the show displaying everything from in-car technology, the latest laptops and of course wearable tech.
ARM's booth at CES may not be flashy, but Viana speculates that its technology is powering anything up to 80% of the all the gadgets on display last week in Vegas, and considering there were over 3,000 exhibitors, that is a lot of gadgets.
Heritage
It is ARM's heritage in developing low-power chip designs which saw it corner the smartphone and tablet market, while Intel continued to concentrate on powerful and power-hungry desktop and laptop chips, failing to recognise the shift to mobile computing until it was too late.
That low-power heritage is what is helping ARM in the wearables market now, and while Intel has declared its intention to enter the market, Viana believes that it will find it a very difficult market to crack.
"It's Intel against the entire industry," Viana believes. "Intel is one player, one choice, based on one architecture. On the ARM side it is one architecture, but a multitude of choices, a multitude of options."
The Internet of Things market is "incredibly competitive" and to succeed Intel will come under cost pressures which it won't have experienced previously says Viana.
Stacking innovation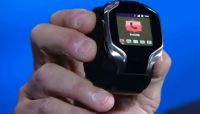 Intel showed off a range of concept products last week, including a smartwatch (right), smart earbuds integrating a heart rate monitor and a smart headset. However it's big play was Edison, a new platform which Intel will be hoping manufacturers will build upon to create all kinds of connected devices.
This is what Viana calls "stacking innovation" and it is something the industry is already seeing on ARM's platform.
"What you are seeing is a lot of our momentum as it carries through out of mobility, it's now driving into other spaces and those spaces grow and expand and innovate on top of each other."
One example on show in Las Vegas was a product which was built to complement the popular Go Pro camera, which is itself powered by an ARM-based chip. The new product features a motor powered by a quad-core ARM processor and a sensor which attaches to the person you want to video.
Using a proprietary communication technology, the motor talks to the sensor so that the Go Pro camera always follows the person wearing the sensor.
Transformation
This, as Viana points out, is just one of a huge array of smart products already on the market in areas such as home automation, robotics, health care and personal fitness which means that while the market is far from mature, it has certainly not a market which is just beginning:
"I think coming into the industry with the mindset that this transformation is starting to happen, I think [Intel is] coming at it wrong, because I would argue the transformation has already happened and [Intel is] playing catch-up."
While it is cler that Intel plans on puuting a lot of resources into its wearables push, could we be looking back in five years time and saying the same thing we are now about Intel in the smartphone and tablet market? Possibly.