Arrested messy Michigan pig had right to remain silent but anything he oinked was taken down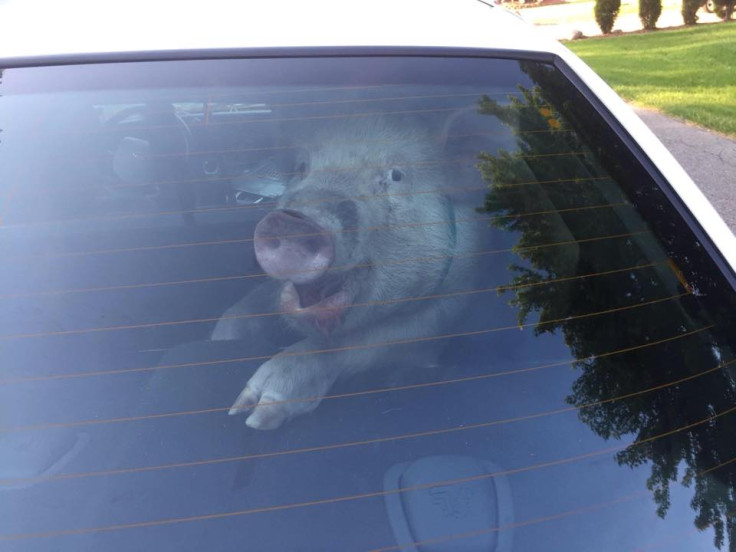 You have the right to remain silent, but anything you do oink...
Pig, the Michigan pig that was arrested by Shelby Township police on 28 May, made sure to leave police a present before returning to his owners: a poop-covered backseat in the patrol car he rode in.
According to ABC affiliate WXYZ-TV, Debbie DeRiemaecker was outside doing yard work around 7pm when she spotted Pig, originally named Daisy, running around. Pig then decided to chase DeRiemaecker before getting distracted by a mystic globe lawn ornament, giving her enough time to call police.
"We were able to corral the pig," Deputy Chief Mark Coil told Detroit News. "It was returned to the owner without incident."
An officer then showed up and placed Pig in the back of his patrol car. The officer, however, made sure to document Pig's arrest before taking him back to his owners.
"Yes, that is in my Shelby Township police car," the officer is heard saying over Pig's oinking. The video, along with a photo of Pig's sloppy mess, was shared by the police department on its Facebook page.
"Just when you think you've seen it all...," Coil said. "I've seen pigs at large, dogs at large, monkeys at large, parakeets at large, horses at large. For some odd reason, Shelby Township is like Noah's ark."
Police said Pig's owners showed up to the police station to clean up after the piggy's sloppy mess. According to the Detroit News, the owners were informed that the township's ordinance on pigs as pets prohibited them from having a pig in a residential neighbourhood.
© Copyright IBTimes 2023. All rights reserved.