Arrow Season 3: Cast Reveals Winner in Arrow vs The Flash Fight; New Details From Special Screening of Crossover Episode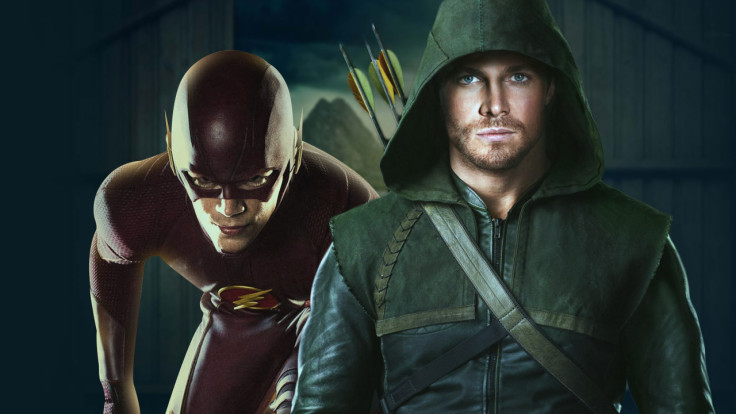 Here's everything you need to know about the eagerly-awaited, upcoming Arrow and The Flash crossover episodes.
The Wrap posted new, spoiler free details about this week's big TV crossover event after a special screening of the two episodes on Saturday, 22nd November. Cast members and producers teased how it came together and what ramifications the episodes will have for the heroes of both shows.
The crossover special will kick off with 'Flash vs Arrow' on 2nd December and as aptly titled - will feature a battle between the two heroes.
"We're all fans, and we've all sat around debating who would win in a fight, like Batman or Superman or Wolverine," said Andrew Kreisberg, an executive producer on both shows, during the Q&A. "So the idea that [Arrow and Flash] would fight each other in one of these episodes was one of our earliest ideas. The idea of cast members having that Comic-Con argument on camera — it was one of our earliest ideas."
The following night, on Arrow episode 'The Bold and the Brave,' Team Arrow will get some assistance from The Flash and S.T.A.R. Labs' Caitlin and Cisco to bring down Captain Boomerang who continues to wreak havoc.
Below are some key details regarding the big Arrow - Flash crossover event, according to The Wrap:
More than one secret will be revealed
As producers teased earlier, a huge secret about Oliver Queen is revealed during the crossover. But, the final minute or so of the episode will also introduce the next phase of 'The Flash' in a big way.
The epic fight scenes
Clearly, one of the biggest highlights of the crossover event will be the fight scenes between Arrow and Flash. Actor Stephen Amell (who plays Arrow) found himself having to adjust to doing stunts that involved special effects, as this was the first time Arrow would battle someone with superpowers:
"The actual fight with Grant, which we shot over three nights, that was a different experience," he said.
How much of the time was he fighting opposite Gustin, and how much was solo stunt work?
"I fought the air a little bit," he joked. "But I kicked the air's ass."
No more crossover events for a while
The producers stated that this will be the last two-parter crossover event for the rest of the season.
"The finales that we're building towards on both these shows are so massive, it would just be impossible," exec producer Greg Berlanti explained and teased.
Kreisberg also said that chances of other DC superheroes appearing on either shows, are highly unlikely as of now despite onscreen teases about Bludhaven, a fictional city closely associated with Batman sidekick Nightwing.
"There are things we can do, and there are things we can't," said Kreisberg. "I'm a huge fan of Nightwing. But there are cities we can use, and then there's everything else. You won't be hearing Gotham or Metropolis on the show anytime soon."
Who would win in an Arrow and Flash fight?
Perhaps to be diplomatic or avoid all-out war in the divided audience, Grant and Amell both went with a surprising answer to the age-old question of which superhero would win in a fight: Diggle.
The Arrow - Flash crossover event kicks off with 'The Flash' on Tuesday, December 2 at 8 pm ET on The CW, and concludes on 'Arrow' on Wednesday, December 3 at 8 pm ET.
© Copyright IBTimes 2023. All rights reserved.