The highly anticipated CW series Arrow is set to return with its third season on 8 October.
The synopsis of Arrow season three's premiere episode, The Calm, is out, and it is going to be a stormy season, as the green Arrow will have to deal with several new threats to Starling City.
Stephen Amell, who plays Oliver Queen, teased fans with an eight-second clip from the season premiere on his Facebook page.
In the slightly blurry scene, which seems to be captured from a television screen, someone is seen running through a flea market and it looks like the chase sequence is set in Hong Kong.
Previously it was revealed that season 3 will feature flashbacks of Oliver's life in Hong Kong. It has also been hinted that he will be revealing bits about that part of his life to Felicity (Emily Bett Rickards) on their first date together.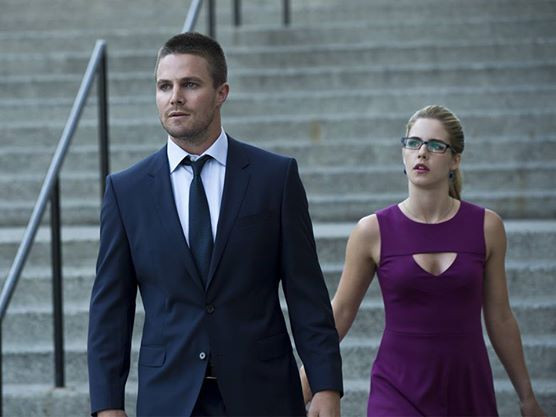 The official synopsis of Season 3, reveals an introduction of Oliver Queen's love interest, Felicity Smoak.
It reads: "In the aftermath of his victory, Season Three opens with The Arrow now a hero to the citizens of Starling. Crime is down, people feel safer, and Captain Lance even calls off the Anti-Vigilante Task Force. Basking in his success, Oliver believes he can finally have a private life and asks Felicity out on a date. But the second Oliver takes his eye off the ball, a deadly villain reappears in Starling, forcing Oliver to realize that he can never be Oliver Queen - not as long as the city needs The Arrow."
Felicity, Queen consolidated's IT specialist, will be on good terms with Laurel Lance ( Katie Cassidy) who happens to be Oliver's ex-girlfriend. On the side note, Lance's character is portrayed as a woman of morals and values; needless to say, that this opens a new chapter of friendship for the upcoming season.
"Not only will Felicity and now-in-the-know Laurel be friendly this season, but our favorite geek girl will also get on great with fleeting beau Barry Allen's No. 1 Central City gal, during the Arrow/The Flash crossover (in Episodes 8). "[Iris West] does have an opinion on Felicity, and it's all good. She's a fan of Felicity," The Flash's Candice Patton told the TVline.
"I think viewers will be very excited to see Barry stuck between these two women. It's so good," he claimed.
Arrow Season 3 airs this Wednesday, 8 October at 8/7c on The CW.