Arrow's Season 3 premiere included a scene somewhat familiar to Christopher Nolan's Dark Knight trilogy.
In the premiere episode, when Oliver Queen was facing off the new Count Vertigo, he received an unwanted dose of a very different version of the drug, which was "bringing out his worst fear." The scene and the drug were similar to Ra's al Ghul's hallucinogen from Batman Begins.
However, Arrow producers clear the air around Batman Begins similarities, and insist that it was just a co-incidence.
Executive producer Marc Guggenheim in an interview with Entertainment Weekly says, "Total coincidence. Its presence in [the premiere] was really designed to [show] that Oliver is struggling with the theme of identity. We certainly talked about that in the writers' room," he continues.
"'Are people going to think we're doing the same thing as Batman Begins?' But ultimately, for us, character and theme pretty much trump everything else and we were like, 'No, we're doing our own thing.'"
Arrow-Felicity Romance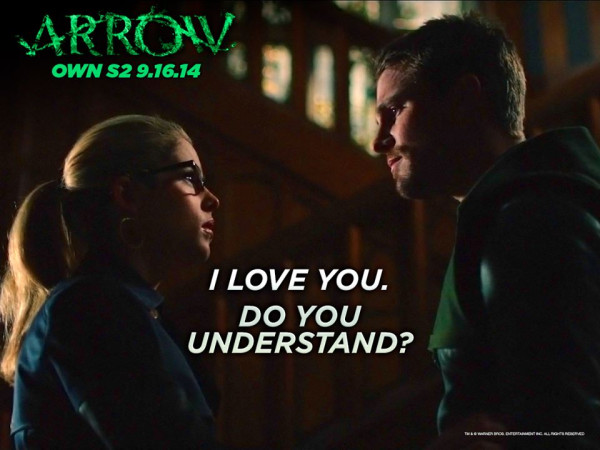 It's been confirmed that Oliver will finally ask Felicity Smoak out on a date in Season 3.
Producer Greg Berlanti in an interview with TVLine, said that there's a "better context" for Oliver asking Felicity out than the description indicates.
"They're real characters to us, and they had that conversation on the beach, and they had that conversation in the house to help capture Slade," Berlanti added.
Executive producer Marc Guggenheim also teased more details about the date.
He told TVGuide: "They go for Italian. I believe he orders a scotch. Felicity wears a very beautiful dress. What else can I reveal? Oliver's going to tell Felicity something he's never told her before."
Guggenheim confirmed that a kiss will happen in the first episode of the new season.
"I think people will be surprised by the circumstances under which they have their first kiss because that's basically how we do things on Arrow," he said. "But I think the circumstances make the kiss so much more emotional than it otherwise would be."