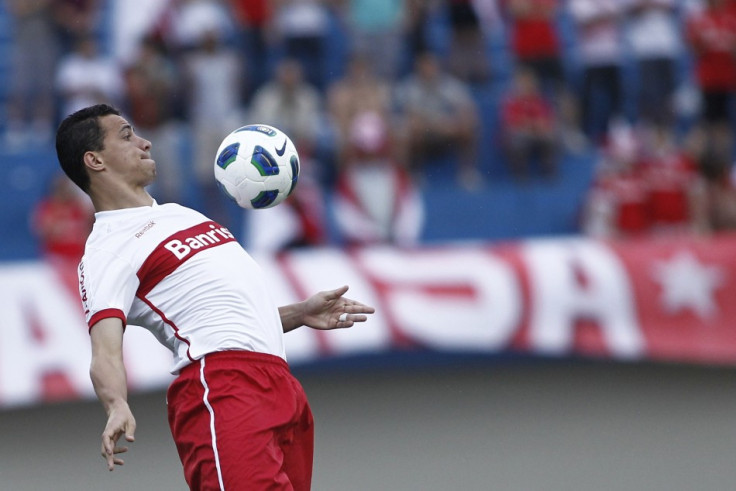 Internacional president Giovanni Luigi has insisted that he will block a move for Arsenal target Leandro Damiao, as the striker continues to be linked with moves away from the club.
Damiao has starred for the South American side since moving through the youth ranks of the club in 2010. He's already made four appearances for Brazil, and after scoring a goal for the national side, has attracted attention from numerous clubs around Europe.
Arsenal in particular are said to be chasing Damiao, and while Tottenham have also shown interest, the Gunners would be able to offer the starlet Champions League football almost immediately if he made a move in January.
But Luigi is desperate to keep hold of his prized possession, and insists that with the club not suffering from any financial stresses, they won't be selling Damiao, even if Arsenal came knocking with a big-money fee.
"We are going to keep Damiao. He would only have two motives to leave - due to sporting criteria, or if the club had financial problems and needed to sell one of its' stars," he said. "That is not the case here.
"I can assure you that Damiao will stay with us."
Arsenal are on the lookout for a striker to provide back up for Robin van Persie, and with Gervinho and Marouane Chamakh set to head to Ivory Coast and Morocco respectively for the Africa Cup of Nations in January, Damiao could be just the ticket to give Arsene Wenger the assurance that he has depth up front.
And with Andre Santos already at Arsenal, and still adjusting to the Premier League after signing with the north London club in the summer, Damiao would have support within the squad to help him adapt to life in England.
When asked whether Arsenal would be making any signings in the January period, Wenger recently refused to rule the possibility out, telling reporters: "I don't say no."
But Wenger may have to look elsewhere if Internacional drive such a hard bargain for Damiao, with the 22 year old said to be worth around £25 million.