Aaron Ramsey will be consulted before Wales manager Chris Coleman selects Ryan Shawcross for the side, after the Arsenal starlet was left with a broken leg in the aftermath of a tackle from the Stoke defender in 2010.
The tackle ended Ramsey's season, and the 21 year old broke his leg in six places, needing surgery on his tibia and fibula as he underwent a difficult recovery.
Shawcross left the field in tears after receiving a red card for the incident, and Arsenal and Stoke players were visibly shaken after witnessing the sickening tackle.
Arsene Wenger described it as 'not acceptable,' but Stoke manager Tony Pulis insisted there was no malic in Shawcross's actions.
"It's a poor challenge, and we're absolutely devastated and disappointed for Aaron and everyone associated with Arsenal football club," he said at the time.
Shawcross is able to play for both England and Wales, with the 24 year old having been educated in the latter.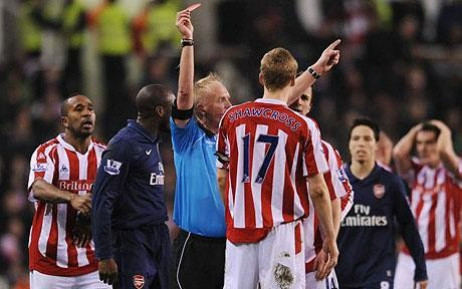 But as Coleman makes his selections in preparation for the 2014 World Cup qualifiers in September, he says that Ramsey will be consulted before going ahead and choosing the former Manchester United man.
"Ryan Shawcross, Ben Turner, Angel Rangel - these are good players and players that could possibly strengthen us," he told the BBC.
"But if I was going to go down that road, the first person I would speak to, especially in terms of Ryan, would be Aaron.
"I'd have that conversation with Aaron first and foremost because there are issues there.
"I'm not going to shy away from that. But can we improve Wales?"
Ramsey recovered from his injury after 10 months, and was a part of Arsenal's line up in the next campaign, but Wenger has often been scathing of Stoke after the two sides play one another.
And while Ramsey wasn't particularly forgiving at the time, whether he will be willing to play alongside Shawcross for his country now remains to be seen.