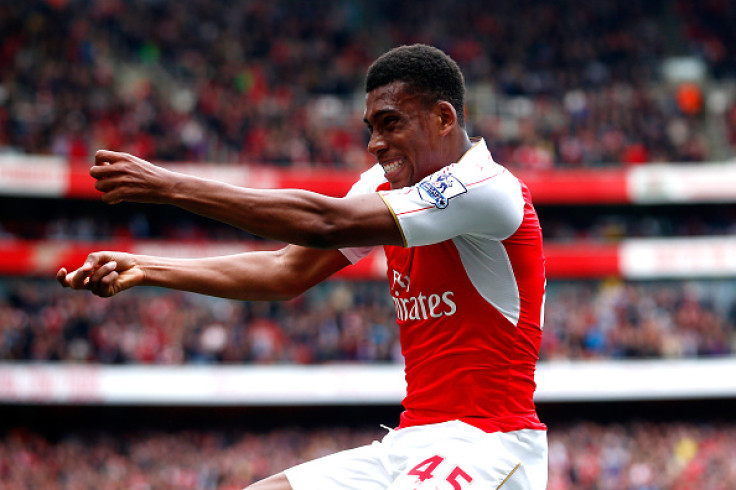 Arsenal midfielder Alex Iwobi has revealed that his first goal against Everton helped calm his nerves and allowed him to play to his potential in the next two games. The 19-year-old has scored two goals and picked up three assists, making him an indispensable part of the Gunners' line-up.
The midfielder scored a goal and assisted one against Watford and picked up two more assists against West Ham, where the Gunners succumbed to a hat-trick by Andy Carroll, dropping two points, having taken a two-goal lead in the first half. Iwobi recently revealed that he is learning a lot from training with the Arsenal first team, especially with Mesut Ozil, whom he looks up to as his role model in the squad.
Iwobi had stumbled on an interesting celebration at Everton, which he has stuck to after scoring the goal against Watford. However, he revealed that he did not anticipate what he was going to do and dedicated the act to his friends who had dared him to do something crazy when he got his first goal.
"That moment was crazy!" he told Arsenal's official website. "When Hector got the ball and I saw the space, I just tried to sprint for my life. Thank God Hector found me. I got the ball and scored. I can't describe the feeling. I started losing my head and the celebration... I don't know where that came from, but I'm sticking with it now!
"The best way to describe it is that it's my number [45], and the Gunners [are] Arsenal. I was just excited and also my friends told me to do something crazy, so it was for them. I already felt at home [in the team] but that goal made me a bit more confident, made me try a few more things and made me feel a bit more relaxed so I was happy to get it."