Arsene Wenger believes that Theo Walcott should sign a new contract and remain at Arsenal as he owes the club a debt of gratitude for taking a risk on signing him when he was a teenager.
The French manager signed Walcott when he was just 16 years old and is now looking for the winger to show some loyalty to the club amid speculation that he may decide to leave on a free at the end of the season.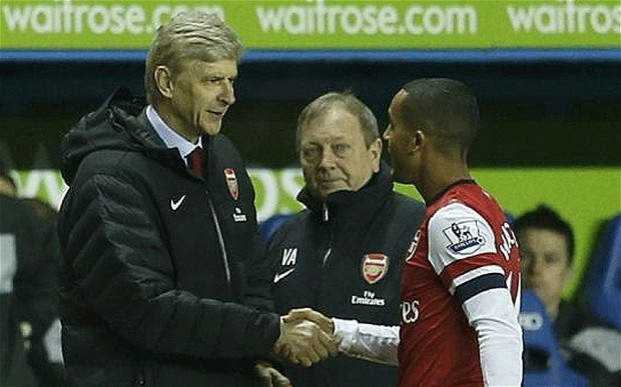 Walcott has been in negotiations with the north London club for some time as they attempt to persuade him to sign a new contract and commit his future beyond the end of the current campaign.
It has been suggested that Walcott is looking to secure a deal worth around £100,000 a week which would make him one of the top earners at the club.
Arsenal have been unwilling to match his demands but Wenger wants the England international to repay the faith shown in him when he was signed from Southampton and immediately given a chance in the first team.
"What is important to keep the young players together is that at some stage I have stood up for them; I played you at 17, 18, 19 years of age and I know I took a gamble," said Wenger, as quoted on Sky Sports.
"It is easier to take a player of 25 and put him in the team. You know what you are getting. If you put them in at 17 or 18, you have to stand up for them. You risk losing games while they are learning their job.
Once you have produced them you want to say, 'Okay, let's stay together and win together.' Somewhere along the line they need to give back to the club what the club has given to them.
"When a guy gets to 30, you can understand it is his last contract and if he feels he wants a change. This is a more sensitive age, but basically, it is a reward for our policy."
Wenger also made it clear that Arsenal are prepared to offer Walcott a significant pay increase as he has been in impressive form over the last 18 months.
"I am happy to pay Theo the money he deserves, but I feel as well that I bought him at 16 years of age and spent a lot of money on him," he added.
"I am a big supporter and I believe he is happy here. Theo has always looked to me like he is an Arsenal man."