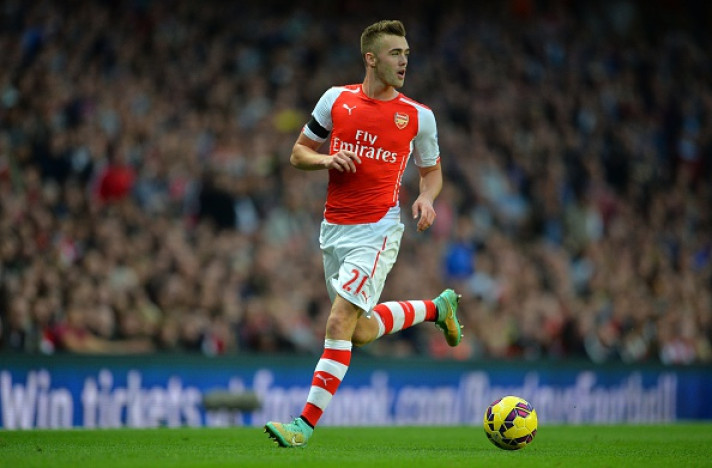 Arsenal manager Arsene Wenger has suggested Calum Chambers will compete with Gabriel Paulista, Laurent Koscielny and Per Mertesacker for a place in the heart of the defence next season as he wants the versatile defender to finally establish himself as a centre-back.
The 20-year-old starlet moved to the Emirates Stadium in the summer of 2014 for around £16m ($24.6m) after attracting the attention of the French boss while playing as a right-back at Southampton.
However, he has alternated both the right-back and the centre-back role during his 36 appearances for the Gunners this season while covering for Mertesacker and Mathieu Debuchy when they have been out with injuries.
He had an impressive start to life at the north London club while replacing the German but most of his appearances during the second part of the campaign have been on the right flank.
However, Wenger wants him in the middle of the defence for the next campaign as he believes his skills work better in a central role.
"First, his stature [suits that position]. The fact he is intelligent and reads the game well, the fact that he's more at ease in the middle," the manager said.
"On the flank, today you need more pace, more change of direction, more agility. He has the stamina, the power and the quality to be a central midfielder or a central defender.
"He's pretty much there. At the moment I have players who have more experience than he has [at centre-back], but in pre-season I will play him there."
Having only played 22 games in the Premier League at Southampton before moving to north London, Wenger believes the young defender has earned much-needed experience during his debut campaign at Arsenal while facing big challenges such as the one against Swansea winger Jefferson Montero.
"He has had some difficult games, but that's part of gaining experience and the learning process," the manager said. "It did teach him, he's an intelligent boy, he thinks about his game after – how he could have blocked him [Montero] better, how he could have stopped the crosses and to read the game of your opponent is an important part for a defender."