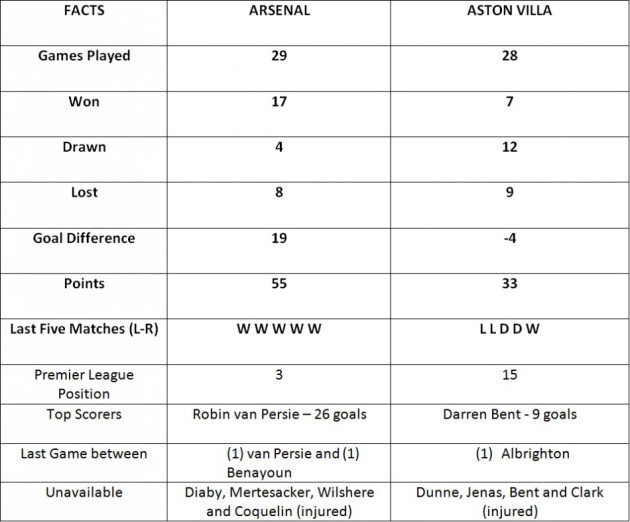 Arsenal are, undoubtedly, in the form of their lives. Aston Villa are not. If there ever was an easy game to bet on, then this was it.
Arsene Wenger has had an unbearably stressful season... erratic, sometimes bordering on childish, performances... rumours surrounding the future of his star striker - Robin van Persie - just do not seem to go away... and, as ever, a raft of injuries. His last few weeks, however, have probably more than made up for all that. Arsenal are now unbeaten (except for the 0-4 rout against AC Milan in the San Siro; the Gunners responded with a 3-0 demolition of the Italians at the Emirates) since Manchester United pipped them 1-2 in a league game in January. The stretch includes a whopping 7-1 massacre of Blackburn, a rousing 5-2 comeback win over London rivals Tottenham and wins over Liverpool (away) and Newcastle (home).
Villa, on the other hand, have had a predictably difficult season. Although they are, for the moment, comfortably clear of any relegation dogfight, they will be aware that recent results have been anything but impressive, or even decent... and if they are not careful, either Blackburn or QPR could suck them into the bottom five. Indeed, QPR's surprise 3-2 win over Liverpool in the mid-week round of games should have already started the alarm bells ringing for McLeish.
The Gunners have been in a free-scoring mode of late, having racked up 30 in the last five home games, in all competitions. This includes a 3-2 win over Villa, in a FA Cup Fourth Round tie. The fact that their visitors have only scored 31 over 28 games of the Premier League so far, should be enough to suggest the obvious gulf between these two. This really should be a walk in the park for Wenger... and that could be Villa's chance to cause an upset.
Arsenal have, in the past, been guilty of either underestimating the opposition or failing to exert themselves enough to win games. Given their recent form and the amount of pressure Wenger is under, it is unlikely he will allow his charges to forget the importance of this game and of every one that follows. It is becoming a cliche to say this... but every game is now a cup final for the Gunners. They cannot afford to slip up, particularly with easy games like this, because they will know that Tottenham and Chelsea will be there to pick up the pieces and Champions League football next season (as well as keeping van Persie and signing Podolski) could be a dream.
The match will be available live on FOXSoccer.tv in the US.
Prediction:
Arsenal 3 - Villa 0
On paper, this is merely an exercise in counting. How many goals can van Persie score in this game? How many can Arsenal score? How can Villa limit the damage? Unfortunately for the visitors, we really do not see that happening. McLeish will no doubt instruct his boys to go out there and get a little physical... to try and intimidate their hosts and maybe, just maybe, see of their well-documented defensive frailities come to the fore. However, there is too much confidence within the Emirates to allow for anything other than a comfortable home win.