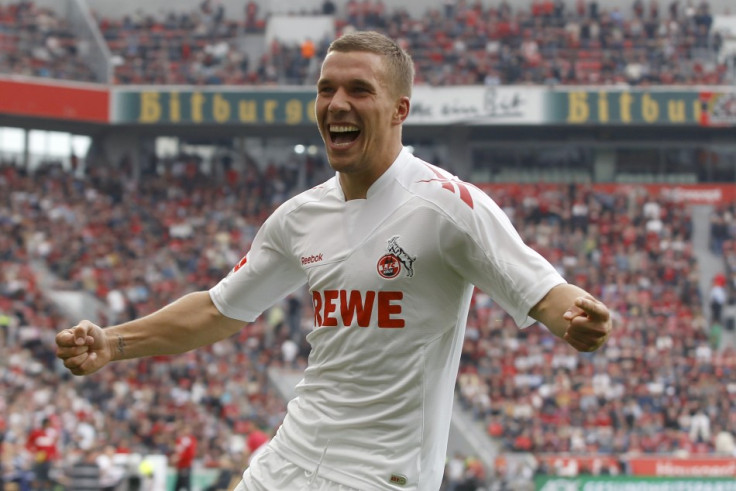 Arsenal have been boosted in their pursuit of Lukas Podolski, with the striker claiming today that he would consider a move abroad rather than staying in the Bundesliga.
Podolski has been the subject of a great deal of transfer speculation lately, with the Germany international admitting that he is ready to leave current club Cologne if the right offer comes in.
"I was told the plan was to get back into Europe here, but we have failed and of course I have to ask myself why," he told Die Welt last month.
"Whenever I am with the national team, I always notice people shaking their heads when yet another story emerges from Cologne which has nothing to do with sport.
"But if I am in top condition, then I think I could fit into any side in Europe. I am not forced to stay only in Cologne."
And now, Podolski has revealed that he wants to move away from Germany, which will be good news to Arsenal, who are said to be considering mounting a bid for the €15 million-rated star.
"A change in the Bundesliga is for me very difficult to imagine," he told Sport Bild: "When I leave Cologne, foreign clubs will appeal to me."
While Podolski looks unlikely to leave Cologne in January, with the 26 year old chasing game time in preparation for the 2012 Euro Championships, Arsenal would be more likely to make a play in June. But with his current wages topping £100,000 a week, Arsene Wenger is reportedly wary over whether to take a risk on the star.
Germany legend Franz Beckenbauer said yesterday that he believed Podolski could play for any team in the world, including European champions Barcelona.
"Lukas can play anywhere, whether it be Barcelona or Real Madrid - he has grown," Beckenbauer told Spox.
"He would also do well at Schalke, but ultimately, it is a decision that he must make himself."
Schalke had confirmed they were interested in Podolski, but Arsenal appear to be in the front line in england at least to sign the hitman, so long as he accepts that he will go from being the number one striker to playing second fiddle to Robin van Persie.