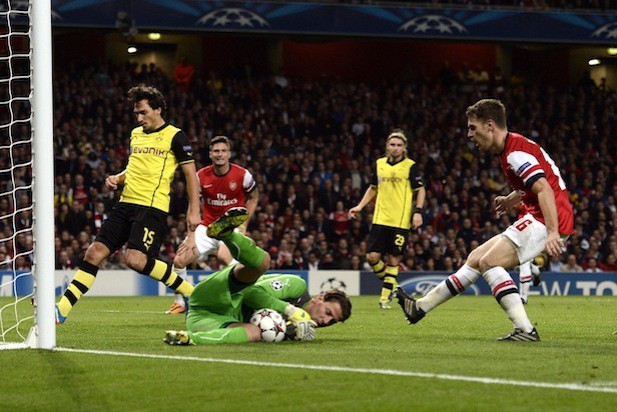 Chelsea 3-0 Schalke
Borussia Dortmund 0-1 Arsenal
Zenit St Petersburg 1-1 FC Porto
Atletico Madrid 4-0 FK Austria Vienna
Ajax 1-0 Celtic
Basel 0-1 Steaua Bucharest
Napoli 3-2 Marseille
Barcelona 3-1 AC Milan
9:37pm: For Chelsea it was a comfortable win that places the Blues in a very favourable position to go through to the next stage. Mourinho has taken a lot of criticism for his selectino choices lately but they're so far proving to be on the money.
9:36pm: And that's a wrap: Arsenal have beaten Borussia Dortmund 1-0. What a massive victory for the Gunners who now sit at the top of the group of death in the Champions League group stages.
9:33pm: Atletico Madrid are into the next stage with their match with Australia ending in a convincing 4-0 victory.
9:27pm: Barcelona look to be in a comfortable lead thanks to Messi once more, with the forward adding a secongd goal to his tally for the night to take them to 3-1 over AC Milan.
9:25pm: GOAL! Chelsea score thanks to sub Demba Ba to take the side to a comfortable 3-0 lead over Schalke. Willian's involved once more as he passes to Frank Lampard, and the England international is able to find Ba at the crucial moment.
9:23pm: For all the excitement in the Dortmund and Arsenal match both sides have had just two shots on target each. Chelsea meanwhile have taken off Eto'o after scoring his brace, as well as Andre Schurrle, to put on Kevin de Bruyne and Demba Ba.
9:19pm: It's all action at Napoli as Gonzalo Higuain adds another to their tally to keep them ahead of Marseille. As things stand Arsenal and Napoli will have the advantage as they aim to progress to the next stage.
9:14pm: Chelsea come close to making it 3-0 thanks to Oscar but the Brazilian is ruled off-side. Meanwhile Arsenal are looking much more in control and their goal has given them a spark to make some attacking runs.
9:05pm: End-to-end stuff as Marco Reus in with an absolute sitter at the other end and misses. Dortmund have had this problem before where they litter the attacking section with goals but can't get one on the scoreboard. Could they be in for another frustrating night?
9:03pm: GOAL! Arsenal go against the run of play to go up 1-0 over Dortmund. It's Aaron Ramsey to the rescue one more who takes advantage of getting ahead of the defence to head the ball past Dortmund keeper Roman Weidenfeller.
8:56pm: GOAL! Chelsea add another thanks to Samuel Eto'o once more. With a great assist from fast-paced summer signing Willian the striker is able to finish perfectly. Blues looking very much the favourites in this tie now.
8:55pm: Mikel Arteta is in serious trouble right now with the midfielder bringing on a free kick after taking down Robert Lewandowski. He's already on a yellow card and appears to be on his last chance.
8:52pm: Borussia Dortmund are pressing hard in attack, they've now had seven shots compared to none from Arsenal.
8:47pm: And we're back! Can Arsenal mount an attack on dangerous Dortmund? Can Chelsea extend their lead against Schalke? Stay turned for the next 45 minutes and find out!
8:39pm: For Arsenal the result at half time is somewhat favourable, a draw away from home would hurt Dortmund and Arsene Wenger will likely be pleased with his side's defensive efforts at the least. They've been able to keep Dortmund away from the target but with 45 minutes more to play the side will need to make some attacking moves of their own soon enough.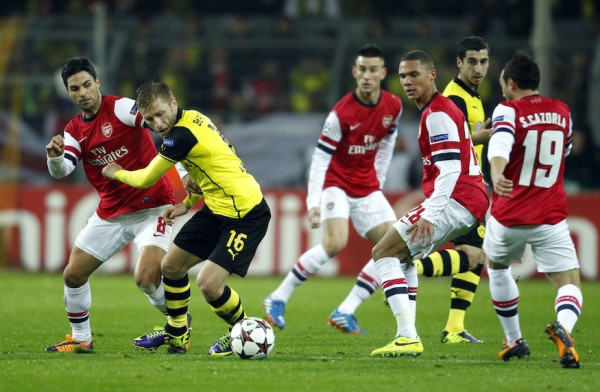 8:34pm: Samuel Eto'o celebrates his goal at Stamford Bridge against Schalke. The side have been in control of possession with 63% and have had 3 shots on target to Schalke's 1.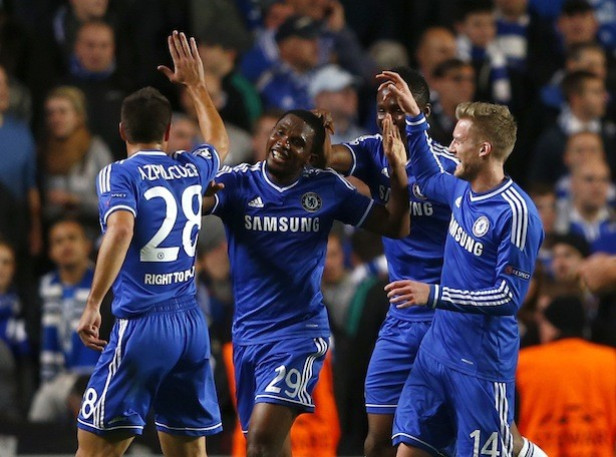 8:31pm: And it's half time at Stamford Bridge and Westfalenstadion and while Chelsea have been able to score a goal over Schalke to take a 1-0 lead Arsenal and Dortmund are yet to have a shot on target.
8:27pm: Barcelona certainly look in the driving seat with the side winning 2-0 over AC Milan at Camp Nou, with Lionel Messi breaking his goal drought to score a penalty and Sergio Busquets finding the second after being unmarked by Milan's defence and taking advantage.
8:23pm: Dortmund are having their shots against Arsenal with four to none so far for Jurgen Klopp's men. But the side have had none on target which is frustrating the fans.
8:17pm: GOAL! Chelsea go 1-0 against Schalke thanks to Samuel Eto'o. Taking advantage of keeper Timo Hildebrand the African was able to block his clearance and smash the ball in from the centre of the box. He immediately tries for another but is ruled offside.
8:16pm: Elsewhere Atletico Madrid go 2-0 up against FK Austria Vienna, and should the Spanish side win tonight they will qualify for the final 16.
8:14pm: And Napoli are now up 2-1 with Gonzalo Higuain scoring within two minutes of the first goal to put the seat in the driving seat for a victory. This will put a lot of pressure on Arsenal or Dortmund if either side lose tonight.
8:12pm: No shots on target yet in Dortmund but Arsenal are well and truly in the game now with the majority of possession. It's end to end stuff but noone is getting a touch near the net - yet.
8:10pm: Napoli have equalised! Rafa Benitez's men are back on equal footing with Marseille.
8:09pm: Chance for Chelsea as Andre Schurrle has a free kick saved by the keeper. That's Chelsea's first shot on goal and the first for both sides.
8:04pm: It's a goal for Steaua Bucharest and Basel are now on the back foot. If the result ends this way it would take some pressure off Chelsea and Schalke at the top of Group E.
8:04pm: It's been said many times before but the atmosphere at Dortmund stands tall with any other stadium in the world. The fans are making it hard to hear the commentary!
8:00pm: Andre Ayew has put Marseille up 1-0 against Napoli! This is somewhat of a surprise considering Napoli are favourites to win the tie. And it's good news for Arsenal, if they draw and Napoli lose the pressure will be eased when the Gunners travel to Italy.
7:58pm: Both Arsenal and Chelsea currently on the back foot here - Schalke are having their chances whil Dortmund are controlling the possession with 56% of the ball at present.
7:52pm: And Julian Draxler is in with a chance for Schalke, giving the side a scare as his shot hits the post.
7:49pm: A chance for Lewandowski already! He will be the man to stop for Arsenal this game. Meanwhile Chelsea and Schalke have just kicked off.
7:45pm: It's kick-off! And the Dortmund fans are once again at their singing finest, belting out You'll Never Walk Alone and making it clear to Arsenal this is no easy feat at Westfalen Stadion.
7:44pm: The teams are coming out and Jack Wilshere has tweeted, with the midfielder missing this crucial tie for Arsenal due to an ankle injury: 'Sat at home waiting for the game to come on is quite possibly the worst feeling ever! Wish I was there! Anyway confident the lads will do it!'
7:38pm: The curious case of Juan Mata not starting for the Chelsea side continues and Mourinho has sought to explain the Spaniard's demotion once more to the bench tonight, telling BBC Sport: "He missed a crucial training session for the preparation of the game and it's very important to train collectively. He could not train."
7:29pm: For Chelsea, their last meeting with Schalke on German soil ended in a convincing 3-0 win over Schalke. It's hard to see Jose Mourinho's side as not being the favourites tonight but with European scoring machine Fernando Torres injured it will still be a tough match-up with a creative Schalke side out for revenge.
7:26pm: The last time Arsenal and Dortmund met at the Emirates it was a frustrating time for Arsene Wenger as his squad were defeated 2-1. They maintained their top position in Group F but with Napoli and Dortmund now all on six points along with the Gunners this game will certailny have a big hand in deciding the final table.
7:18pm: Earlier in the night Zenit St Petersburg drew with FC Porto 1-1 with both sides staying within touching distance of current Group G leaders Atletico Madrid. Away from Chelsea and Arsenal Napoli and Marseille face one another and should Rafa Benitez's men win the pressure will be on the Gunners to keep their standing amongst the so-called Group of Death. Meanwhile Basel are so far the surprise outfit of the tournament having beaten the Blues at home and they take on Steaua Bucharest at home in the hopes of keeping within touching distance of a top two finish in Group E.
7:12pm: The starting line-ups for tonight are as follows:
Arsenal: Szczesny; Sagna, Mertesacker, Koscielny, Gibbs, Ramsey, Arteta, Rosicky, Ozil, Cazorla, Giroud
Borussia Dortmund: Großkreutz, Subotic, Sokratis, Schmelzer, Bender, Sahin, Blaszczykowski, Mkhitaryan, Reus, Lewandowski
and
Chelsea: Cech; Ivanovic, Cahill, Terry, Azpilicueta; Ramires, Mikel; Schurrle, Oscar,Willian; Eto'o
Schalke: Hildebrand, Uchida, Howedes, Matip, Aogo, Neustadter, Jones, Draxler, Boateng, Fuchs, Szalai
7:10pm: Hello and welcome to the IBTimes UK live blog for a night filled with some tough Champions League football. Arsenal and Chelsea are both hoping to edge a step closer towards the last 16 as they both face German sides tonight, with Jose Mourinho's men taking on Schalke and the Gunners facing Borussia Dortmund. It's not going to be easy for either side and both are looking to make up for shock home losses in the tournament.