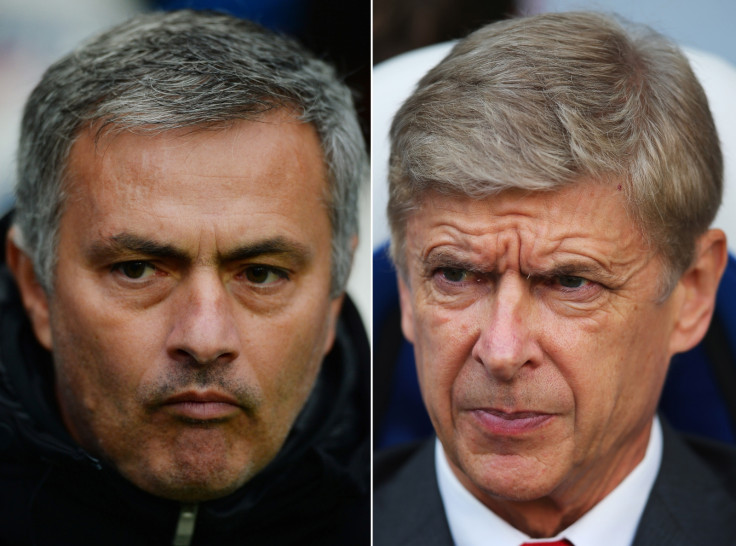 Arsenal manager Arsene Wenger has dismissed Chelsea boss Jose Mourinho's suggestion that clubs who breach Financial Fair Play regulations should face a points deduction.
Mourinho claimed Manchester City should not have been awarded the Premier League title last season after being sanctioned by Uefa for breaking FFP rules, which prohibit clubs from making losses in excess of £35m.
City were handed a £49m financial penalty, £32m of which was suspended, had their summer spending capped and saw their Champions League squad reduced to 21 for the 2014/15 season.
However, Mourinho, whose Chelsea side lead City by seven points at the top of the Premier League, wanted a harder sanction imposed on the Etihad Stadium club but Wenger has dismissed the proposal that a team's points tally should be affected.
"I think we have a good sense of humour here," the Arsenal boss said prior to the Premier League game against Leicester City.
"Look, the financial fair play rules have to be respected by everybody and if one club respected always the financial fair play - and you can underline 'always' - it's Arsenal, then we do not have to talk about that."
After years of overspending under Russian owner Roman Abramovich, Chelsea have re-structured their policy in the transfer window and after recently stripping themselves of any debt are successful adhering to Uefa's new rules.
But Wenger – who has a master's degree in economics from Strasbourg University – says he fails to understand the complexities of FFP despite Arsenal being the standard-bearer for the regulations on the continent.
"It depends what you call financial fair play, as that notion has changed, you know," he added.
"Is it is just your income created by the gates? Is it the gates and commercial? Then you can already start to be creative.
"Is it only the gates and the television? Is it naming rights as well? It is not clear to people what financial fair play means; the rules are very complicated. The Premier League rules and European rules are different already. You have to be aligned so everybody knows exactly what it means.
"We are a popular sport so you want clear and simple rules for everybody to understand. If I ask 10 people in the street today and if you ask me, and I am in the job, I don't have a clear idea anymore of what it means. I would like the rules to be clear and that everybody respects them."