Cesc Fabregas has revealed that he is unhappy with life at Barcelona after being substituted in all three league games so far this season.
The midfielder is struggling to come to terms with the fact that Barcelona have a wealth of options in midfield and that he will not always player every minute of every game.
Fabregas was almost indispensable to the Arsenal midfield, however, the arrival of his former teammate Alex Song has meant that the competition for a place in the Barcelona side is fiercely contested.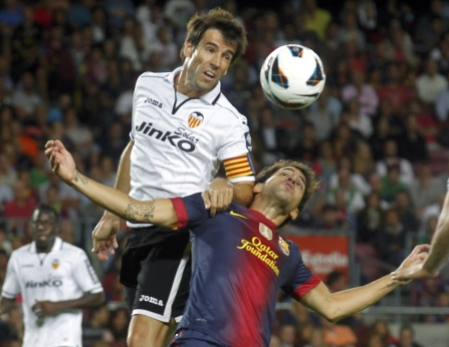 The Spain international, who has spoken of his frustration, was dragged off after 68 minutes on Sunday as Barcelona maintained their perfect start to the season in the league with a 1-0 victory over Valencia.
"There's no such thing as a great substitute in the world of football," Fabregas told Radio Marca, as reported in the Daily Mail. "I couldn't tell you what makes a great substitute.
"I always wish my team-mates well and put a happy face on. "f I have to take my unhappy face home then so be it, but I would never let my team-mates or manager see it.'
The addition of former Arsenal midfielder Alex Song has meant that there is plenty of competition for places with Xavi, Andreas Iniesta, Sergio Busquets and Javier Macherano all wanting to play in the centre of the park.
"Everybody likes to play every minute of the season," added Fabregas. "I've always said that I play for the best team in the world, but I came here to compete, to learn and enjoy, not to sit wracking my brains.
"The manager knows what I can offer. But across the three positions that I can play, I am competing with the three best players in the world.
"I'm delighted to be a part of this team but when a coach tells me I have to go, I'll go.
"But I will not make it easy for him to do so, by any means. I will keep going, looking forward to the time that things change. I came here to see out my career.'