Theo Walcott has revealed the secret behind Arsenal's recent form, which has now seen them inching closer towards a place in next season's Champions League action. The England international claims a "kick up the backside" from Arsene Wenger during the break against Wigan Athletic inspired the Gunners' players, helping the north London club in winning the game 4-1 at the Emirates.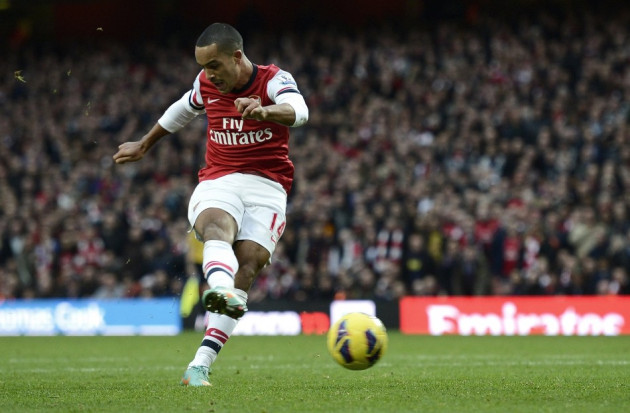 "The manager gave us a kick up the backside. It is great that the manager has that passion and it got a bit more out of the players. It is massive to be in the Champions League. We all knew our big it is, not just for the manager, the fans, the players and the club itself," the Independent quoted Walcott as saying.
The victory over the Latics has now seen the north London club being the firm favourites to finish the season in top four, unless there is a major upset in the final game of the season against Newcastle United. Arsenal are fourth in the Premier League table with 70 points from 37 games, leading their arch-rivals Tottenham by a point.
Walcott was on the score sheet for the third game in the row for Arsenal, taking his tally to 14 goals in 31 league games. The 24-year-old has issued a warning to their north London neighbours as he believes Arsenal will be looking for nothing less than three points at St James' Park on Sunday.
"We will be fighting strong on Sunday. We just need to show that in the mid-season and at the start and we could hopefully be even higher than we are and not have this situation we are in. We tend to finish very strong. I think it is just because the players want it so much," he said.
"We just have great experience in knowing what to do when the time is right. It is funny. It happens every year. It (Champions League football) is big for the future of the club and the players. We have been in it for the last 15 years and we don't want to be the players who are not part of that," the England international concluded.