Arsenal secured Champions League football for a 16th consecutive season as Laurent Koscielny's only goal was enough to beat Newcastle United at St James' Park while Tottenham Hotspur's win over Sunderland virtue of Gareth Bale's wonder goal was not enough against 10-man Sunderland.
Koscielny's close-range finish seven minutes after half-time proved to be enough for The Gunners as Tottenham were frustrated for long periods by Paulo di Canio's Black Cats with Simon Mignolet in inspired form, before Bale struck from 30 yards in the final minute to send the nerves gangling in the north east.
But Arsenal held out to book their place in the continent's top tier next season, and leave Spurs in the Europa League next term, and pave the way for an uncertain summer for Bale, who continues to be linked with a move away from north London.
While the reaction of Arsene Wenger was one of delight coupled with relief spoke volumes about the close race for the final Champions League spot and the desperate nature of their campaign, fans will be hoping the summer can produce a series of high profile signings with the club stil eight years without a major trophy.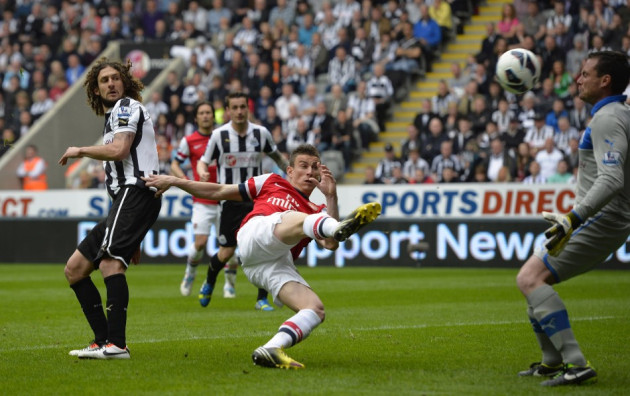 Wenger said: "I'm proud for the character of the squad and all we have to deal with through the season.
"I told them many times it would be close. In the last two months they've been sensational. I'm very proud that we were so far behind Tottenham and we've shown character to come back. We make 73 points that's three points better than last year.
"I just did what I feel was right because. The desire to do wel is there and this isone of the best group of players I've worked with. The combination of quality and attitude.
"We want to do that [win a trophy] next season but with the consistency reqired to be in the Champions League; consistency is the most difficult thing in our sport. we need to be very special to come back.
"In this kind of game to deal with the opponent and cope with the nerves in some games and we did it quite well.
"We want to make additions to the squad but keep a structure and the quality in the team we have now. Let's not forgot there ate other clubs who have a lot of money. We'll be out there in a very proactive way."
The emotions were contrasting for Villas-Boas and Tottenham meanwhile, with the club now left to reflect on a winter transfer window where they neglected to add to their artillery, and a season where the reliance of Bale grew as the campaign progressed.
"I'm very disappointed; we wanted to make that final push. Arsenal did their job and forced into the fourth spot," Villas-Boas said.
"I think it is very good to have so many points to and it makes it is a good reference for next season. In terms of the classification we have pushed on and next year we have to improve. It's a good lesson we take into next season.
"We were unlucky in the game again Liverpool. going back in all the season, probably the Everton result cost us more. The away game shifted our season
"I think it's fine, we have to keep our ambitions high, the reference of the points tally means we have to hold onto the best assets."