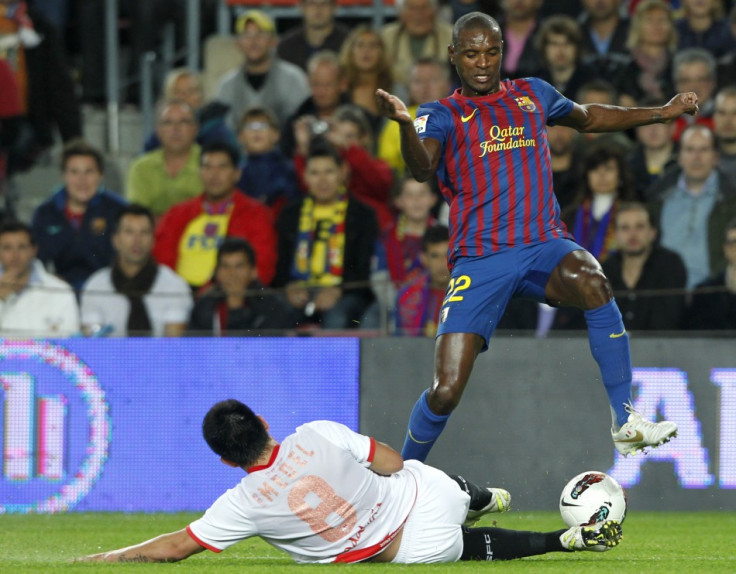 Eric Abidal has admitted that there is a '90 per cent chance' that he will stay at Barcelona for his long term future, as talks continue over a new contract for the Arsenal target.
Abidal joined Barcelona from Lyon in 2007 for a reported fee of €9 million, and the defender has starred for the club since, making over 100 appearances so far for the Catalan giants.
And as contract talks stalled, Arsenal were said to be on alert for the 32 year old, despite his age going against Arsene Wenger's usual youth orientated transfer policy.
Arsenal look likely to build on their defensive options in the next transfer window, as Per Mertsesacker continues to adjust to life in the Premier League. Wenger insisted this week that no players are on the club's agenda for January, but if the Gunners are still challenging for a top four spot, they may need to bring in extra support in order to ensure Champions League qualification for next season.
But while Arsenal had reportedly been hopeful of a possible deal with Abidal if contract negotiations fell through with Barcelona, the France international insists that he is likely to stay with the Champions League trophy holders.
"There is a 90 per cent chance I will stay with Barcelona," he told Canal Plus. "I had a meeting with the board today [Wednesday].
"We reached an agreement, and the only thing left is to sign the contract. Then, the adventure with Barca can continue."
Barcelona defeated AC Milan last night in a nail-biting 3-2 win, to take the side to the top of their table in the Champions League group stages. The side have now shored up qualification for the next round, and Abidal had a hand in making the hard-fought victory happen.
In fact, Abidal has made 18 appearances for the side so far this season, and Barcelona have only conceded six goals in their campaign, while the club have conceded zero goals at home.
And while the Gunners are still on the lookout for talented defenders, they may have to turn their attentions away from the Barca man in their pursuit of new players as January rolls around.