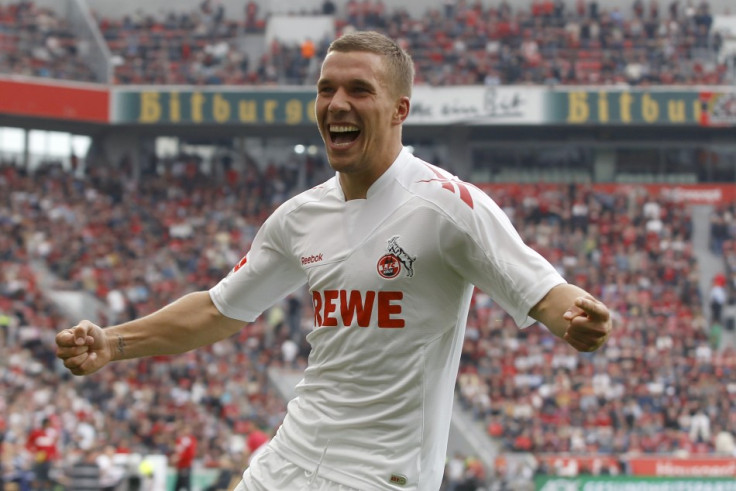 Schalke have admitted being interested in Cologne striker and Arsenal target Lukas Podolski, with the star set to be the subject of a transfer tussle as the January window moves closer to opening day.
Podolski has starred for Cologne since moving to the club from the Bayern Munich reserves side in 2009, and with a worth of around £20 million, only the top teams throughout Europe have expressed interest in the star.
And Schalke, who are currently fourth in the Bundesliga table and pushing for Champions League qualification next season, are now talking to Podolski about a possible deal, which will no doubt be a blow for Arsenal.
"I'd like to hear what they have to say, but I won't put myself under any pressure," Podolski told BILD.
"I am taking the necessary time to think about what is right for me.
"I want to know how to help develop the club."
Arsenal are on the lookout for a striker to provide back up for Robin van Persie. Gervinho and Marouane Chamakh are both leaving the club in January to head to the Africa Cup of Nations, and while the Dutchman is currently boasting a good bill of health, if he becomes injured Arsene Wenger could become very desperate for a replacement.
But with Schalke fighting for the Germany international's signature, Arsenal could be in for a fight if they want to land the hitman.
The German outfit confirmed that they are looking at Poldolski, with Schalke club official Clemens Toennies telling Sport1: "Yes the Podolski case is keeping us busy.
"We've thought about it, we've also brought up other names."
Arsenal admitted that they might be looking for players to build of their squad in January. After a disappointing start to the season, the club have recovered well from the loss of Cesc Fabregas and Samir Nasri, and making five signings in the last 24 hours of the transfer window has helped the side get back within reaching distance of the top four.
The Gunners face a tough couple of fixures over Christmas, with Everton to play this Saturday and Manchester City away the following week. City are currently in first place in the Premier League table, and if Arsenal want to mount a serious challenge for the title this season, they will need to show they are serious by taking three points from the showdown.