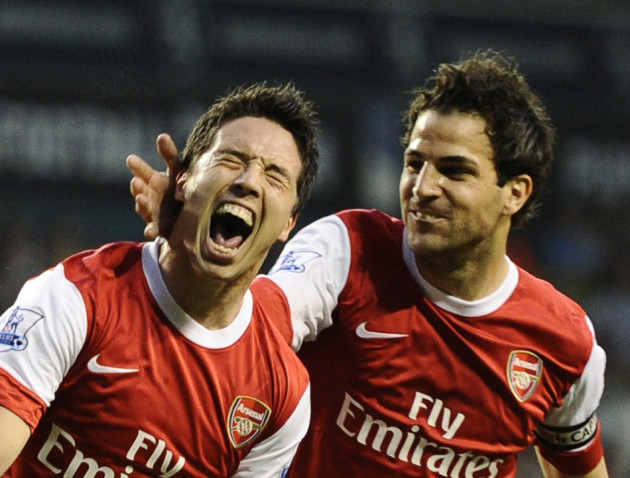 Arsenal and Valencia have reached an agreement over the £17m transfer of Juan Mata, according to reports from Spain.
The Spain international will now discuss personal terms with the Gunners, after he rejected the chance to join Tottenham Hotspur.
But Valencia president Manual Llorente insists the club have not received a formal offer for the left-winger and remains adamant he is going nowhere.
"Mata is in Lisbon and he is still our player. I think he will remain here, as we have not received anything," Llorente told reporters.
"Those who want to stay in Valencia will do so and those who want to come here will come," he added.
Mata, 22, is viewed by manager Arsene Wenger as a replacement for Cesc Fabregas, with the future of the Arsenal captain still uncertain.
Fabregas was left out of the Arsenal squad for this weekend's Emirates Cup, with Arsene Wenger determined not to allow the on-going saga to disrupt the club's pre-season plans.
The Spain international has not featured in any of Arsenal's pre-season matches, and has trained apart from the squad, much to Wenger's chagrin.
"He [Fabregas] is coming back from an injury and is not settled with us. You know all the speculation which is around his position, that has to be sorted soon," Wenger told reporters at the weekend.
"There is only one deadline [to sell Fabregas], it is on 31 August. The other deadline is for us to get everybody focused - the players who are really committed to the club, my energy and my focus goes on them. I cannot help the other situation, because it does not only depend on me, it depends on the players and on the clubs."
Barcelona remains Fabregas's most likely destination, despite reported interest from AS Roma.
Over the weekend, club president Sandro Rosell claimed Fabregas is their "unique and final objective" - but are asking the 24-year-old to waive his £4m signing-on fee as the club struggle to meet Arsenal's £40m asking price.
Pre-Season Struggles
Arsenal fans were treated to a taster of life without their talismanic captain on Sunday; it looked eerily familiar.
Thierry Henry was welcomed back to the Emirates as Arsene Wenger's side could only draw 1-1 with New York Red Bulls in the final of the Emirates Cup.
Twice in two days they let leads slip in the pre-season tournament after Boca Juniors came from 2-0 down to snatch a draw on Saturday.
Despite Wenger's assertion of a "very active" transfer window, Arsenal's defence remains unpredictable and their attack blunted.
To compound Wenger's frustration, Jack Wilshire limped off after seven minutes with an ankle injury and is doubtful for the club's first league match against Newcastle on 13 August.
Wenger moved to downplay the seriousness of Wilshire's injury but his loss is an unwelcome addition to a summer overshadowed by events off the pitch.
"It is not very serious but he might be out completely next week because he has an ankle inflammation," said Wenger.
"Let's see. He is usually a quick healer and a tough boy. I hope he will be quicker than the medical prediction."
Arsenal's central midfield is already without Abou Diaby for the start of the season and there is still uncertainty around Samir Nasri's future.
Reports suggest Arsenal are planning a move for Wolves' winger Matt Jarvis, should Nasri leave before the transfer window closes.
Gunners' scouts travelled to Portman Road on Saturday to watch Jarvis, the Daily Mail reports. They left disappointed, however, after the 25-year-old was ruld out with a groin injury and played no part in Wolves' 2-1 victory over Ipswich.
Finally, Arsenal's hopes of signing Karim Benzema faded last night as Real Madrid boss Jose Mourinho ruled out any move for the striker.
The France international had been heavily linked with a £25m move to north London, amid speculation Mourinho wanted to replace him at the Santiago Bernabeu.
But after Madrid missed out on Argentina forward Sergio Aguero and Santos striker Neymar, Mourinho now views the 24-year-old as a key component of his squad for next season.
Speaking after Real Madrid's 2-1 win over Leicester City on Saturday, Mourinho said: "There is no speculation. He is not for sale, no chance."