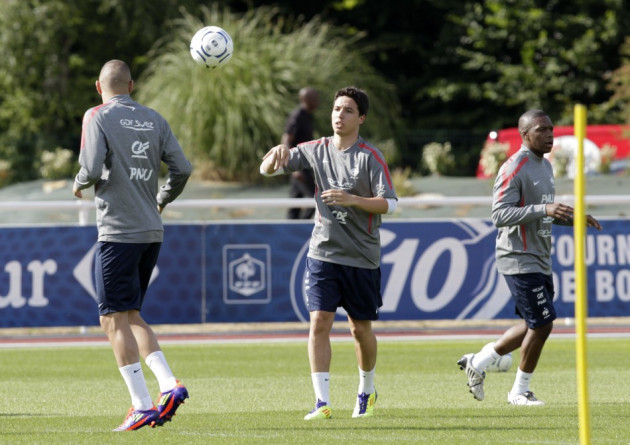 Arsenal have paved the way for Samir Nasri's move to Manchester City as manager Arsene Wenger has tempered his determination to retain the France international, reports suggest.
Wenger said at the beginning of July that he was prepared to hold Nasri to the terms of his contract and he would prefer to lose him for free next summer, rather than sell the 24-year-old for £20m this summer.
But the club will now accept an approach from City when Roberto Mancini formalises his interest in the midfielder, the Guardian reports.
City are prepared to pay almost £25m for the midfielder after Mancini spoke of the need to "complete" his squad following Sunday's Community Shield defeat to Manchester United.
"We have the targets we had at the start of pre-season," he said.
Nasri, 24, will double Arsenal's current £90,000-a-week offer should he move to Eastlands and he is believed be agreeable to a move after becoming disheartened by Cesc Fabregas's protracted transfer to Barcelona.
Both Fabregas and Nasri missed the club's 2-1 friendly loss to Benfica in Lisbon on Saturday with muscular injuries but, much to the club's chagrin, the Frenchman linked up with the national squad in Montpellier on Monday, ahead of the friendly against Chile on Wednesday.
The unsettled mood around the Arsenal dressing-room has been fuelled by a summer of relative inactivity in the transfer market.
Wenger said at the beginning of the club's tour of east Asia four weeks ago he would be "very active" in the current transfer window, but most of the activity at the Emirates has revolved around existing players leaving, rather than new ones arriving.
Arsenal completed the signing of Southampton winger Alex Oxlade-Chamberlain on Monday evening, for a reported fee of £12m.
Oxlade-Chamberlain, 17, is viewed as one of England's most promising youngsters. He was a key component of Southampton's promotion to the Championship last season, scoring nine goals in 34 appearances.
But his arrival has been greeted with a measure of discontent by Arsenal supporters.
Pete Wood, who runs Arsenal fans' website Le Grove, told the Daily Mirror: "It's just amazing that we've spent the whole summer trying to buy Gary Cahill or Chris Samba but have been told that we won't pay over the odds. But we will pay top dollar for a young talent who has been playing in League One?"
However, Wenger will have to wait until the futures of Fabregas and Nasri are decided before he will sanction moves for other transfer targets.
The Frenchman remains keen to bring in an experienced central defender, with Bolton's Gary Cahill, Everton's Phil Jagielka and Birmingham's Scott Dann all potential targets.
Yet there is also a belief that Juan Mata's potential transfer can be resurrected, despite Valencia's deadline to meet the Spain international's £20m release clause having expired on 1 Aug.
Mata, 23, was heavily linked with the Gunners earlier this month but speculation cooled after Wenger failed to meet Valencia's valuation of the midfielder.
But the player's father-agent suggests the deal is still on. Mata Sr, told Tutto Mercato Web:
"Valencia have turned down the offer of Arsenal and for now remains Mata in Spain, but the situation is changing and Arsenal can return to the office."