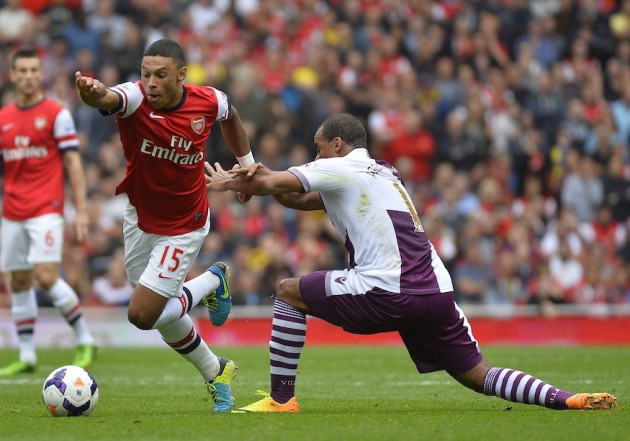 Arsenal have suffered a massive injury blow as Alex Oxlade-Chamberlain has been ruled out of contention until 2014, according to the Mirror.
The 20-year-old was scheduled to resume training in November but has been told that he won't be able to start before 15 December which will put his recovery back to 2014. The setback means that the player is a doubt for Roy Hodgson's squad for the 2014 World Cup in Brazil with the player unlikely to get enough first team action to warrant a place. The former Southampton man has been a regular for Hodgson over the past few tournaments, also featuring in the squad for the 2012 Euro Cup last year where he sparkled.
The Gunners are finally looking to get over the injury crisis that has dogged them this season, with the likes of Theo Walcott and Lukas Podolski in contention following the international break. Their return will leave Abou Diaby and Chamberlain as long term casualties. Arsene Wenger has a wealth of talent in midfield having brought in Mesut Ozil and Mathieu Flamini last summer, so Chamberlain may find it difficult to slot straight back into the squad after recovering. Moreover, Serge Gnabry, who is built in the same mould as the England International, has been impressing for the Gunners.
Chamberlain insists that he will be up for the challenge ahead.
"Things can change quickly in football. When you're at a great club like Arsenal, which has the strength in depth it has, you know you've got to raise your levels to stand a chance of playing. If you look at us now, if everyone was fit we'd have an unbelievably strong squad and it will be a huge challenge to get back in the team. But I'm confident in my ability so, when I get the chance, I will have to take it," he said.
.