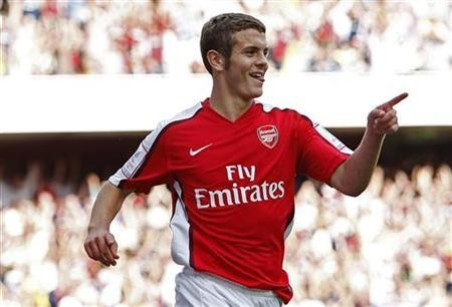 Arsenal fans may criticise their club for failing to spend huge amounts on players in the transfer market but the north London club have shown they are willing to invest vast sums in order to secure the long-term future of five of their brightest stars.
The Telegraph has revealed that Arsenal spent £70million in order to make sure that the five British players, Jack WIlshere; Carl Jenkinson, Aaron Ramsey, Alex Oxlade Chamberlain and Kieran Gibbs, all received deals that will keep them at the club until either 2017 or 2018.
Arsene Wenger has always been keen to promote young players and it is a sign for all of the members of the academy that they will earn long contracts if they manage to impress.
Gibbs and Wilshere have come through the Arsenal academy, while the other trio were signed as teenagers and have gone on to become important members of the first team.
"We are delighted that these five young players have all signed new long-term contract," said Wenger, as quoted in the Telegraph.
"The plan is to build a team around a strong basis of young players, in order to get them to develop their talent at the club. Jack is certainly the best known, the leader of this group - but the other four players are exceptional footballers, and we're very happy that we could conclude their new deals at the same time."
"Gibbs, Jenkinson, Oxlade-Chamberlain, Ramsey and Wilshere represent a core of the squad and it's an extension for a long period for all of them.
"I'm a strong believer in stability and I believe when you have a core of British players, it's always easier to keep them together and that's what we'll try to achieve."
There is still some hope that Arsenal will offer a long contract to another of the British contingent in winger Theo Walcott. The Telegraph believes that the Gunners are prepared to offer him a five year contract which would cost the club around £20million.
The England international is out of contract in the summer and there have been suggestions that he will look to leave the club if he does not receive a significant pay increase on his current wages.