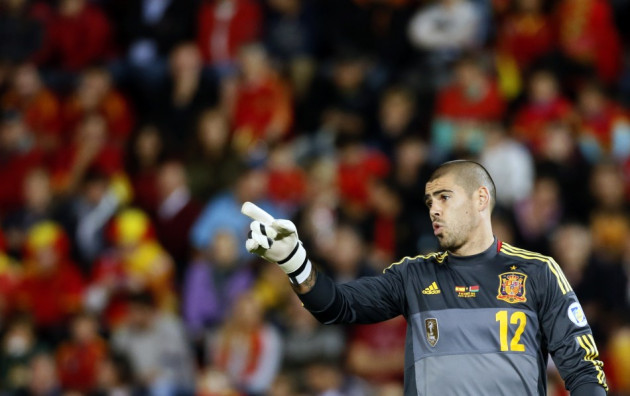 Barcelona are still pursuing Liverpool keeper Pepe Reina with the hopes of purchasing the Spaniard next summer as Victor Valdes looks set to choose a move to Monaco over Arsenal.
Reina admitted last week that he is open to the possibility of moving to Barcelona after expressing dissatisfaction over his loan spell away from the Reds.
Brendan Rodgers insisted he had to let the 31 year old go to Napoli on a temporary stay for financial reasons but it would appear that Simon Mignolet is now the preferred number one at Liverpool.
And the Daily Mail is reporting that Reina is set for a move to Barcelona next summer but not as the number one keeper he might have hoped to be, with the Catalan giants instead going for Borussia Monchengladbach's Marc-Andre ter Stegen to be their first choice goalkeeper.
The 21 year old Germany international has starred for Monchengladbach since moving through the youth ranks into the senior line-up in 2011. He helped the club to within four points of European football last season and in this campaign he has kept two clean sheets for the club and helped them to four wins in eight matches.
A prospect for the future, he would fit perfectly into Barcelona's youth policy and with Reina bringing experience the club reportedly believe the pair will be the perfect replacement for the outgoing Valdes.
Meanwhile, for Valdes the offers will be coming in thick and fast as the 'keeper contemplates his next move. Arsenal are believed to be interested in the Spain international but he has now admitted that the prospect of a move to Monaco is very appealing.
He explained: "I've had more than 10 years at Barcelona and I've been lucky enough to win a lot of trophies With The club I joined when I was 10 years old. But my Adventure with Barca ends this season and I'm going to go elsewhere with my family."
And on the prospect of joining former Barca man Eric Abidal at Monaco, Valdes said: "Abidal is very happy there and I'm a good friend of his, I consider him a brother after everything we've been through and to play with him again would be special. He is a role model for me. "
For Arsenal, the news will be a blow as Arsene Wenger continues to search for a more stable keeper than Wojciech Szczesny.