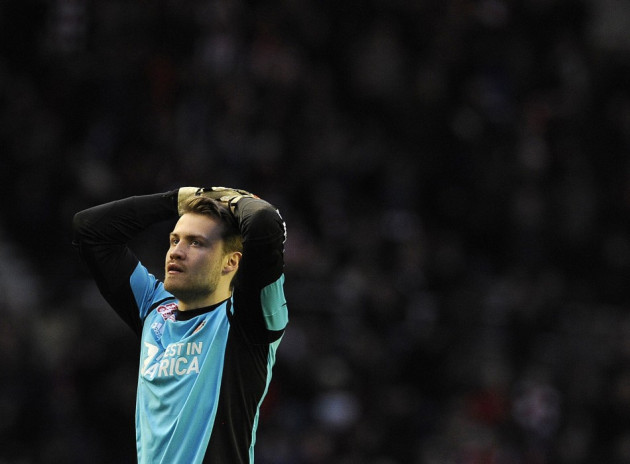 Liverpool and Arsenal target Simon Mignolet has admitted he has struggled to feel happy at Sunderland this season, with the side only just escaping relegation at the end of the campaign.
Keepers are going to be big news in the transfer window this summer, as some of England's top sides searching for a stopper who can create more continuity and stability in the backline.
In Liverpool's case, they may have to find a replacement for Pepe Reina, who is said to be fielding interest from boyhood club Barcelona.
And Arsenal are believed to be on the lookout for a replacement for Wojciech Szczesny, who has been inconsistent and forced Arsene Wenger to look to Lukasz Fabianski on numerous occasions over the last season.
But while Mignolet is insistent that he hasn't given his future any thought as yet, he admits that the season with Sunderland hasn't been much fun.
"I am ambitious, and I read the press as you do," he told the Daily Mail. "It has been a difficult season with Sunderland. It's not much fun to play bottom of the League, and I think Sunderland will know they have to change something to prevent another season like that.
"The manager [Paolo Di Canio] wants to change the team for the better. Let's hope he can do that next season."
He also insisted that Arsenal in particular haven't been in touch with him as yet, saying: "I have read about it, but I haven't heard anything. I know there has been talk about Arsenal, but I haven't heard anything or received a phone call from Arsene Wenger. I will stay calm and focused on the Belgium games, and after that, go on holiday with my girlfriend. We will see what happens."
Mignolet's season for Sunderland has been a standout one, but the Belgium international will need a concrete offer from elsewhere to have the option of leaving Sunderland in the summer. Liverpool's movements in this department will depend on how quickly Barcelona act to sign Reina, while Arsene Wenger is yet to make his feelings over buying a new keeper clear.