Lukas Podolski has revealed how he initially struggled to adjust to life at Arsenal as he was forced to get used to playing for a club pushing for Champions League rather than a side fighting off relegation.
Podolski left Cologne in the summer of 2012 after they finished 17th in the Bundesliga and were relegated to the second division. After a disappointing season, in which the Germany international couldn't save them from the drop, he made the decison to leave the club for a second time.
His goal scoring tally at Arsenal hasn't yet been comparable to Cologne, where he was providing the vast majority of firepower up front, but Podolski explained that a mixture of injury problems and adjusting to the Premier League has meant his success has been hampered on occasion.
He told the Arsenal match day program: "I did well earlier in the season, then had an injury which put me out for a few weeks, however now I am back and hope to play a big part in the final run of matches - but it is the coach's decision, of course.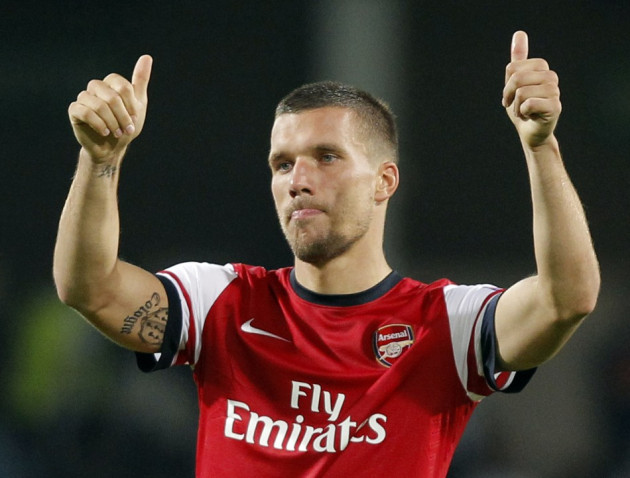 "Overall I am happy. You must remember I came from a team [Cologne] that was going down, and it wasn't so easy to come straight to a big club and be strong.
"But I believe I have the quality to play in every game here and think I have done well until now.
"I have scored some goals and made assists, so I am content, but I will be happiest if we can make the Champions League, because every player - and every team - wants to play at that level."
Arsenal are currently Third in the table, after securing a dramatic win over Norwich at the weekend to move ahead of both Chelsea and Tottenham in the race for a Champions League spot.
With just six games left for the Gunners to play in the Premier League, the side will be hoping to take maximum points to kill off any possibility of Tottenham or Chelsea overhauling them.