Edinson Cavani's agent has confirmed that the striker would command a fee of around £60million as Manchester City and Arsenal continue to be linked with possible bids this summer.
Cavani has been in prolific form for Napoli in the last three seasons, and was heavily connected with a move away from the club after putting in top-class performances in the Champions League last season.
He insisted he was completely committed to the Italian club, despite City's reported interest,and the fact that Napoli did not play in the Champions League this season and are likely to finish second in the league to Juventus.
With that in mind, Cavani hinted that he may be interested in a move last week when he said he would consider his options at the end of the season, and agent Claudio Anellucci told Rai Sport that £60 million is an accurate figure to place on the Uruguay international.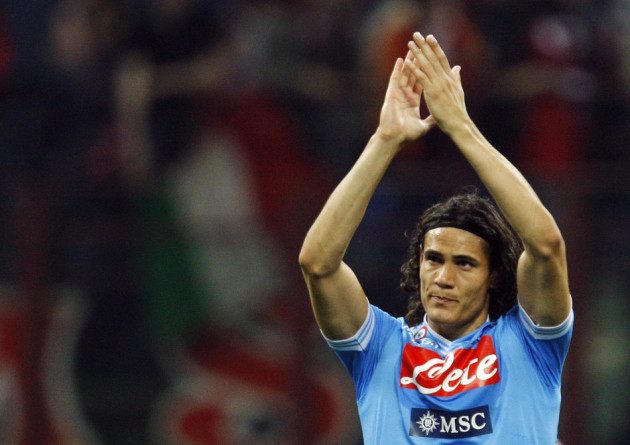 "I also think this [£60million] might be the correct fee for the player," he said. "It's a bit early to talk about this though."
Anellucci admitted that Cavani has been flattered by the interest in his services, as Arsenal and City reportedly consider moves for the man who has scored 29 goals in the Serie A this season, but insisted that he is happy to stay at Napoli.
He explained: "It's also normal that a player like Cavani wants to win and then ask the club what their plans are for the future.
"Edinson never told me he had any intention of leaving Napoli. It's great thinking there is so much interest in him because it means he is doing well."
Arsene Wenger admitted at the start of the year that he admired Cavani, and the striker would certainly add a goal threat to the Gunners as they look to end their trophyless run.
Wenger is believed to have a transfer kitty in excess of £70 million, but it is extremely unlikely that the club would spend the vast majority on one player considering their transfer policy and with their manager currently talking up the ability of the Gunners' youth players to step up to the first team.
Meanwhile, City have maintained an interest in Cavani for a number of seasons, bringing Aurelio De Laurentiis to jokingly say the hitman was leaving the club for 'cold Manchester' when he had in fact signed a new contract to stay at Napoli until 2017.