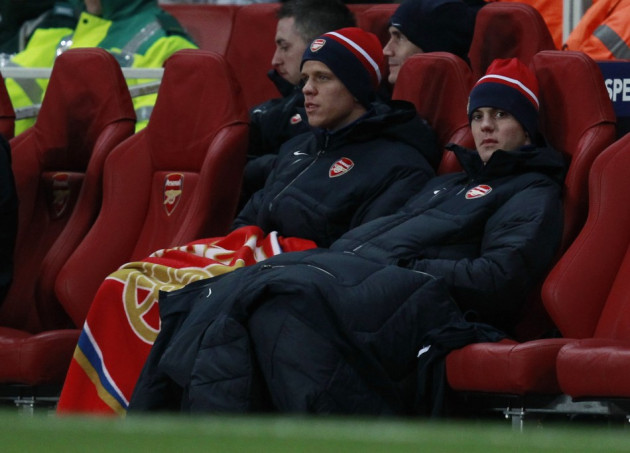 Jack Wilshire could find himself in trouble with UEFA after suggesting he placed a bet on Arsenal team-mate Emmanuel Frimpong to score against Olympiakos in their Champions League match.
Although the England midfielder is side-lined with an ankle injury and therefore missed Tuesday night's game, UEFA regulations specify that all players are prohibited from betting on games involving their own sides - regardless of whether they play or not.
Wilshire, 19, said Frimpong could be "worth a cheeky £10" to open the scoring for Arsenal, adding: "Frimmy nearly won me some money there" when the Ghanaian midfielder went close with the score at 0-0.
Olympiakos' Rafik Djebbour eventually netted the first goal as the Greek side beat Arsenal 3-1 but UEFA have confirmed they are looking into the matter.
"All persons bound by UEFA's rules must refrain from any behaviour that could damage the integrity of matches and competitions," a UEFA spokesman said.
"A breach of these principles is committed by anyone who participates directly or indirectly in betting or who has a financial interest in such activities."
The Arsenal midfielder has since deleted all references to betting off his Twitter account and insists he had only been joking.
"I didn't actually bet on the game. I know we're not allowed to! I was only messing #justtobeclear," he wrote.
Meanwhile, Wilshire has revealed he would be "delighted" if Arsenal manager Arsene Wenger succeeded Fabio Capello as England boss.
When asked about the possibility of Wenger taking over from the Italian, Wilshire told talkSPORT: "I don't think it would be a bad thing. The boss at Arsenal proves it every year.
"The consistency that we have shown in Europe - I can't remember the last time we didn't qualify out of the [Champions League] group [stage].
"For me, him and Sir Alex [Ferguson] are the best managers in the Premier League and people questioning them are stupid.
"If the boss at Arsenal wanted the job at England, then I'd be delighted with that."