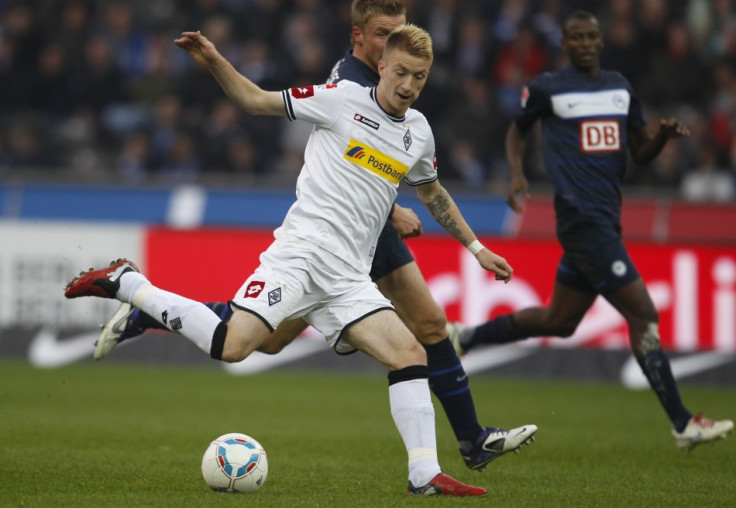 Arsenal target Marco Reus believes that he is ready to make the step up to a bigger club than Borussia Monchengladbach, with the midfielder admitting to being flattered by interest to join Bayern Munch.
Reus has been a star for Borussia since joining the club in 2009, and has now built up 24 goals in 76 appearances for the side, drawing interest from numerous European clubs.
Arsenal in particular were said to be interested in Reus, with Arsene Wenger registering interest with club coach Lucien Favre in the hopes of signing him in the next transfer window.
And now with Bayern Munich also considering making an offer, Reus says he is ready to make a step up in his career and show he is more than just a future talent.
"I feel flattered that Bayern Munich are interested in me. Bayern are the biggest club around in Germany," Reus told Sport Bild.
"They have been reaching the quarter-finals and even semi-finals in European tournaments for years now.
"I am not that young any more for a footballer. I am turning 23 years old next summer and have then played in the Bundesliga for three seasons.
"In my opinion, I reach the age where I'm no longer just a talent."
Wenger has a close personal relationship with Favre, but the Borussia coach has insisted that he won't sell Reus to Arsenal if it is in the best interests of his side.
And while Bayern are also interested, with Reus sporting a slightly modest fee of €17.5 million considering his recent form, Arsenal will no doubt be in the mix for a bid when the January transfer window rolls around.
While the Gunners have had a disappointing start to the season, the side are pushing back up the Premier League table and are currently seventh.
And after signing five names in the last 24 hours of the transfer window, including Andre Santos, Per Mertesacker, Park Chu Young, Mikel Arteta and Yossi Benayoun, January is set to be another busy month for Wenger as he continues to bolster the Arsenal squad in Cesc Fabregas and Samir Nasri's absence.
Reus would make a good addition to the side, with the Germany international able to play both up front and in midfield, and boasting a great deal of potential for long-term success in his footballing career. And after Jens Lehmann personally recommended him, he could well be tempted to join international teammate Mertesacker at Arsenal at some point next year.