Arsenal duo Alex Oxlade-Chamberlain and Kieran Gibbs believe the Gunners have assembled a strong enough squad to mount a title challenge this season.
The north London outfit signed Germany playmaker Mesut Ozil from Real Madrid on transfer deadline day - for a club record fee, understood to be around £42.5m - to boost their chances of ending an eight-year trophy drought. French midfielder Mathieu Flamini, Italian goalkeeper Emiliano Viviano and France U21 striker Yaya Sanogo have also joined the club's ranks for the new campaign.
Arsenal have bounced back from the home defeat against Aston Villa in the season opener, with four wins in a row. This includes a 1-0 victory over rivals Tottenham in the north London derby last week. And Chamberlain, though sidelined with a knee injury, has been impressed with the team spirit and commitment of the players since the second half of last season.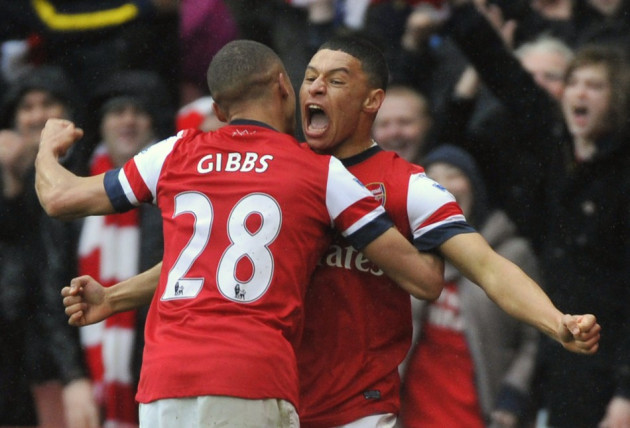 "We've been contenders ever since I came to Arsenal. Or at least that's the feeling in the squad. We really think we can take the title. Obviously it hasn't happened in recent seasons. But in the form we showed at the end of last season, and - when I was watching from the sidelines - in the spirit we've shown at the start of this, in the derby, everyone was fighting for each other," the Telegraph quoted the 20-year-old as saying.
"That team spirit, you can't buy it. That, along with our manager and the signings he's just made, I'm absolutely full of optimism that this season can be a good one. Without doubt we think we can win the title. Just like we believe we can win every competition we're in. If you don't believe that, if you aren't striving, then you don't deserve to be at Arsenal," Chamberlain said.
Meanwhile, Gibbs stated he was thrilled by the arrival of a world-class player like Ozil and also pointed out club officials, who lost the services of former captains Cesc Fabregas and Robin van Persie in recent years, have succeeded in keeping hold of all their high-profile stars this summer.
"Jumped in the air [after hearing the Ozil signing]. But you don't even have to be an Arsenal fan to jump in the air. When you find out that a world class player like that is coming to England you're going to jump for joy. In the end the fans and the people inside the club have got what they want: a really great addition," the 23-year-old said.
"Well, you're always optimistic. But I think the way we finished last season gave us a lot of confidence. And, yeah, since I've been there, this is the strongest [squad] I've felt. Especially because quality players haven't left. And players like Santi [Carzola] have got another year's experience," Gibbs said.