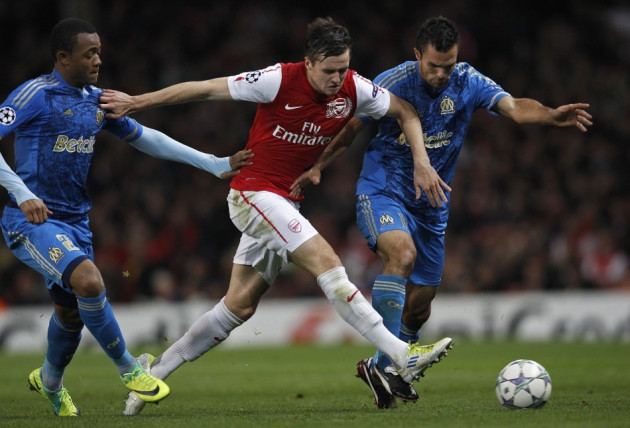 The 20 year old defender has dual nationality - British and Finnish - and has represented both nations at youth levels (U17 for England and U21 for Finland). However, FIFA rules allow players with two nationalities the chance to play youth football for both nations before making a senior team debut with one. Of course, once a senior cap has been earned, the player cannot go back to the second nation. Therefore, if Jenkinson were to represent Finland at the senior level, he will be unable to represent England... and vice versa.
"Jenkinson has improved immeasurably over the last 12 months," Neville, a former Manchester United defender and holder of 85 England caps, admitted, adding, "It was very difficult for him at the start of his Arsenal career last year because of the changes in the defence, there was never a settled defence for him to perform in. But you look at the way he's performing now and he's been magnificent for Arsenal in the early stages of the season."
The youngster signed for the Gunners last summer from Championship side Charlton Athletic, for a fee thought to be £1m. At the time, Jenkinson was the captain for the Finland U19 side.
The young Gunner will have to beat at least two rivals to earn the England spot, though, with Liverpool's Glen Johnson and Tottenham's Kyle Walker ahead of him for the right back position. Johnson, 28, is an experienced international with 43 caps to his name, while Walker, 22, was last season's PFA Young Player of the Year.
"England have good options but he's [Jenkinson] definitely someone who is being watched continuously; he's definitely catching the eye," Neville said, adding that the coaching staff of the senior team had been following the player for a while.
Meanwhile, Jenkinson has been officially contacted by the Finnish football federation, with an offer to play for the senior side. The good news for England fans is the player refused to give a direct answer. The bad news is he has yet to commit to either side.
"Finland have contacted me," he told talkSport, adding, "My exact words when I spoke to them were: 'I'm focussing on my club football', so that's all there is to it. You can read into that how you want. I'll cross that bridge when I come to it. Until then I'm just concentrating on each game as it comes."