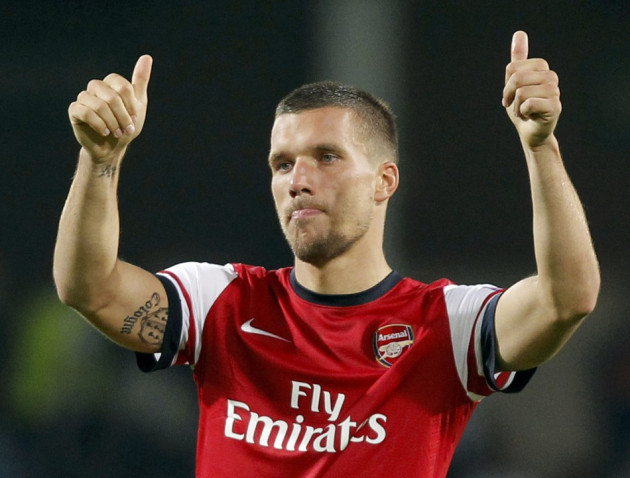 Arsenal forward Lukas Podolski claims he wants a tattoo of the Gunners' crest on his left arm. The Germany international, who joined the north London side in the summer, already has a tattoo of former side Cologne on his right arm. The 27 year old had it done just before he left the club as a farewell gesture to the supporters, after spending six seasons with the Billy Goats.
"Cologne meant so much to me because I was there a long time. Maybe I will do the same with Arsenal because I like this club. It is a big club and maybe we can do a tattoo. We can speak about this in the next three or four years," the Daily Mail quoted the forward as saying.
Podolski, who has scored in each of his last three games for Arsenal, has settled at Ashburton Grove quickly and praised his new coaching staff and team mates for helping him get acclimatised to English top flight football.
"When I came on the first day to the club everyone made it easy for me. Not only the team around the team, the coaches, the physios, the president and all the staff make it easy for me. I feel happy at Arsenal. It is good for me. The team and [manager] Arsene Wenger make it easy on the pitch. This is the style of football that I like - we play with one or two touches," the Mirror quoted Podolski.
Meanwhile, Wenger feels Podolski's happy nature has helped him settle quickly in the Premier League and expressed his delight in the new signing's positive character.
"He looks happy to be here and he has integrated into the team. He is a happy boy, [with a] happy nature. Plus he's a good communicator, he speaks English quite well already. That helps. Overall, he's a positive character. I believe as well that today in the modern game, to be a top level player, you need to be a top-level worker first. He understands that," the club Web site quoted Wenger as saying.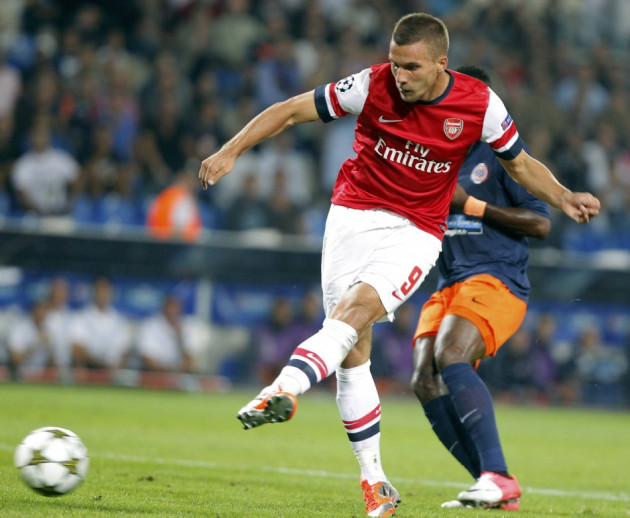 The French tactician has also been impressed by the finishing skills of Podolski, which saw the wide man net crucial goals at Liverpool and Montpellier, along with the curling free-kick against Southampton last week.
"You like to see him in front of goal. He doesn't get there many times per game, but when he gets there, you always think we have a good opportunity to score because he is a fantastic finisher. If you look at [each] chance, he looks at the keeper first. He takes care of his control, and after he will not mishit, he will finish," Wenger pointed out.