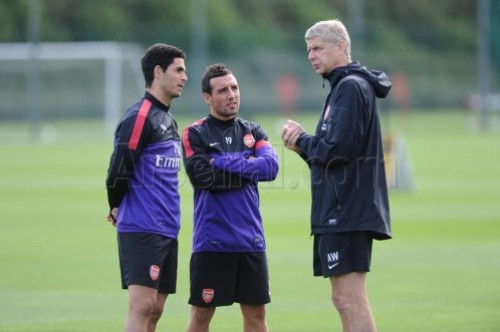 Jamie Redknapp and Arsene Wenger have both heaped praise on Arsenal midfielders Santi Cazorla and Mikel Arteta, after the club's 1-1 draw against Manchester City. The Gunners dominated proceedings for most of the match, especially the first half, and came back from a goal down to pick up a point at the Etihad Stadium, thanks to a late strike from centre back Laurent Koscielny.
Sky Sports pundit and former Liverpool midfielder Redknapp believes Arsenal deserved the point and identified the Spanish midfield duo as key to the club's outstanding performance.
"Cazorla's been magnificent. What I like about him is that he plays off both feet; you don't know which way this little man is going to go because he's so comfortable on both sides. Arteta offers that nice bit of protection in front of the back four. He doesn't move too much. [Former anchorman] Alex Song did his best stuff going forward, but Arteta knows his strengths, sits in front of them and just patrols. He snuffs out a lot of danger that teams bring. It's a real collective job that they're doing there," Sky Sports quoted Redknapp as saying.
The 39 year old also felt Cazorla and Arteta had the better of their City counterparts Yaya Toure and Javi Garcia throughout the game.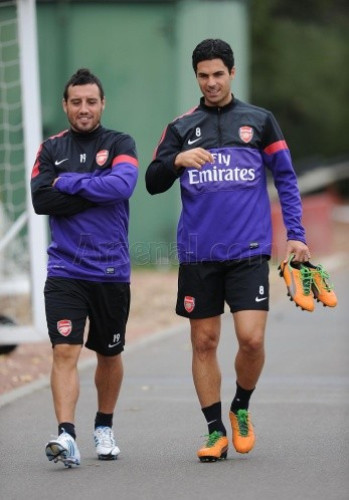 "I felt it was a really interesting match-up tactically. There were two different formations, but I felt Santi Cazorla for the whole game caused Manchester City so many problems. Javi Garcia didn't know what to do at times. He didn't know whether to push in and mark one of the other midfield players or go and mark Arteta or Cazorla. You didn't see Yaya Toure having any real influence, Javi Garcia hardly had a touch and that's where I felt Arsenal could dominate. That's exactly what they did," Redknapp pointed out.
Arsenal boss Wenger also congratulated the Spanish duo for their positive influence on the team and admitted he feels for the pair as there is fierce competition for a place in the La Roja squad.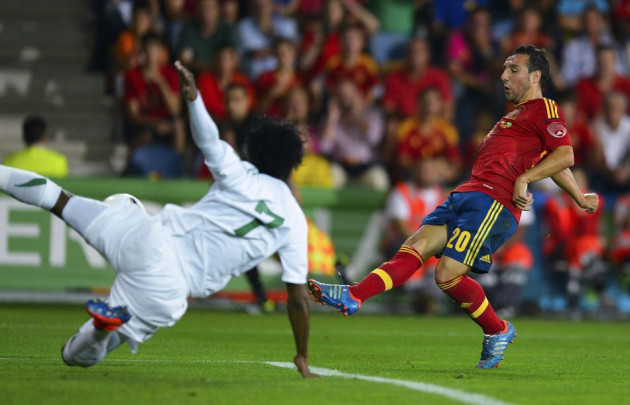 "Cazorla is a good link between midfield and the final third. He gives you availability always to turn the game forward and an exceptional technical level. You would think Cazorla or Arteta would play in many other countries, but with Spain they don't because they have (Andres) Iniesta, (Sergio) Busquets and Xavi. Players like Cazorla and Arteta, even (Cesc) Fabregas are not always playing. They are all technical high-level, gifted players. It is not a coincidence, it is down to the way they educate their players [in Spain]. This is a concentration on technique," the Daily Mail quoted Wenger.
Cazorla has 48 caps for the reigning world and European champions, while Arteta is yet to win a senior cap.