Olivier Giroud has been full of praise for Eden Hazard, with the Arsenal striker saying he isn't affected or pressured by Robin van Persie's early goal scoring for Manchester United.
Giroud is hoping to break his goal duck with the Gunners this weekend, as players return from international duty to get back into action.
And though Hazard and van Persie have both had wildly successful starts to their seasons with new Premier League clubs, Giroud is confident he will very quickly catch up as he adapts to life at Arsenal.
"I'm not at all surprised at how well Eden Hazard has settled in this league, because he's very comfortable everywhere he goes," he told FIFA.com. "He's a very good player who's going to give Chelsea quite a boost.
"As for Van Persie, people seem to think it's something that weighs on me, but I know that the manager has confidence in me. He could easily have brought in another forward when Robin left, but he didn't.
"The fact that people have put their trust in me creates the best possible conditions for me to develop and score goals. I've even set myself a little target in terms of the number of goals I'm going to get, but I'll keep that to myself.
"I'm coming in after someone who scored 30 goals last season, but who took eight years to reach that level, albeit while dealing with various injuries along the way. I feel that I have less time to establish myself and that there are more immediate expectations of me.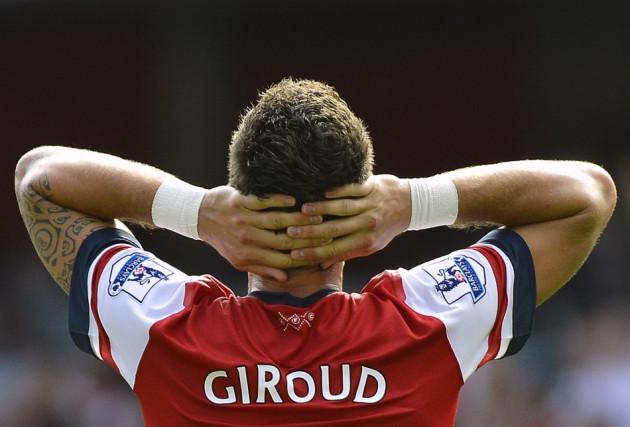 "I imagine it'll be the same thing for Emmanuel Herrera at Montpellier. That's how it works, that's what the demands of top-level football are all about - you have to accept it and remain strong."
The pressure on Giroud to perform in the absence of van Persie has been immense, with Arsenal's Champions League qualification last season being credited with the goal scorer's prolific season, in which he was the game changer in multiple match-ups.
But Giroud believes that Arsenal have a lot to be positive about this season as they look to end their trophyless run, with Abou Diaby's return serving as a massive boost to the side as he goes from strength to strength.
"Abou is absolutely essential to how we approach games tactically at Arsenal.," he explained. "He's an athletic, complete player, extremely effective at winning the ball back, but also at distributing it and driving into opposition territory.
"He's a very important player for the club, but also for France, and he's doing everything he can to leave his injury problems behind him. He's a great professional, and it's reassuring to play alongside him."