As Arsenal prepare to face Swansea this weekend, Per Mertesacker says he is looking forward to playing the side he made his debut against for the Gunners, with the defender coming a long way since his move to the Premier League.
Mertesacker was one of Arsene Wenger's signings in the 2011 summer, and as the side suffered one of their worst starts to the season under the Frenchman's reign, many questioned whether the Germany international would adapt to the more fast-paced Premier League.
The defender has since settled well into the English style of play, and though the Gunners have stumbled in recent matches, he has been a big part of establishing continuity at the back, which the club have suffered from a lack of in recent times.
Wenger said of the 28 year old, who moved to the club at the same time as Mikel Arteta: "By bringing in players like Arteta and Mertesacker, it gave us a new hope and brought some new confidence. The attention was more on the new players than the bad result.
"That in itself helped the squad a little bit to forget about it. After that, it was a scrappy win, but a win. When you're low in confidence, the wins help you to get up again."
And as Mertesacker faces Swansea again, he says he's planning on taking maximum points for the north London side to make up for a disappointing mid-week draw against Everton.
"We were really looking forward to the Everton game because it was a big chance to achieve a good result against a decent side," he explained. "There was a positive feeling in the squad ahead of the match, and we wanted to get the three points.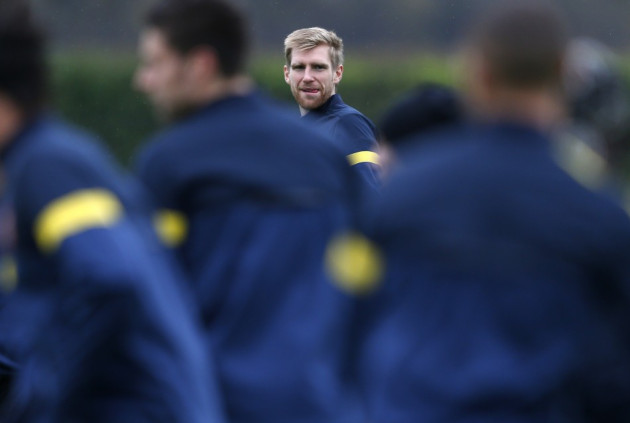 "We had a fantastic start with Theo scoring, which was exactly what we were looking for, but we made a couple of mistakes in the build-up to their equaliser that made us a bit vulnerable - losing the ball near our own box.
"It was a vital moment for Everton, and they came back in a way that we'd wanted to avoid."
Mertesacker said that playing Swansea would be particularly important for him as it was where he made his debut.
"My first game last year was against Swansea, so it's always something special to face them," he said. "They are playing well - they have good possession and are doing similarly to last year, when they were impressive.
It's important that we keep to our normal game plan and be ready to do something right from the start, especially in the final third of the pitch.
"We want to get the three points - the league is getting harder every year and every opponent is getting better, so we need to keep concentrating and show exactly what we can do."
Mertesacker believes that lessons can be learnt from Arsenal's disappointing draw with Everton as they prepare for the clash this weekend.
"Swansea are a good, technical side - they can play shorter and longer balls to good effect.
"But we have to look at our game first and improve on the Everton performance. We have to respect our game as well as that of the opponent. December is here, and it's a very important month for us - let's start it as we mean to go on."