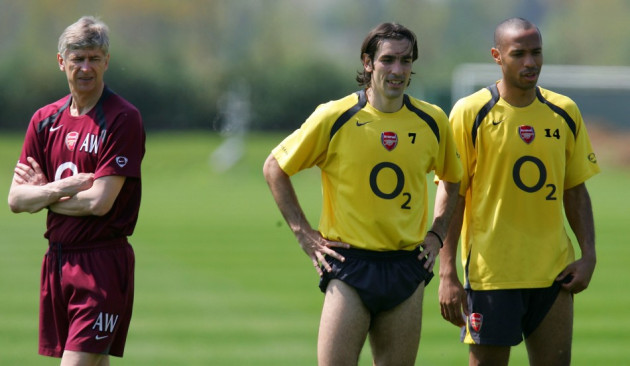 Former Arsenal playmaker Robert Pires believes manager Arsene Wenger will become the new Sir Alex Ferguson - as he thinks the French coach will finish his career at the Emirates.
Wenger, who has been at the club since 1996, is expected to extend his contract as soon as the Gunners have qualified for Champions League knockout stages.
His compatriot Pires, who played in north London for six seasons, has said he thinks the Arsenal manager will emulate Ferguson, who managed United for 27 years.
"I think his destiny will be to end his career at the club, like Alex Ferguson at Manchester United," Pires told French media 20 minutes.
Wenger has been linked with many clubs, including Real Madrid, in recent years, and last summer reports suggested he could move to Paris Saint Germain. However, the French team finally hired Laurent Blanc and according to Pires Wenger now looks ready to commit his future to the Gunners.
"I can see he is very motivated by his work with Arsenal. He has built the club up and given it a playing philosophy. I don't see him jumping ship," Pires added.
The former Arsenal playmaker, who won the Premier League twice with the Gunners, has also praised Mesut Ozil.
"He has added technical skills to Arsenal and also made a significant psychological impact on other players, especially in the youngsters. Now they have more freedom and the team is more ambitious".
Furthermore, Pires discussed Arsenal's chances of winning both the Premier League and Champions League.
"Quantitatively they are not as wide as other favourites in the Premier League but qualitatively they are strong. It will depend on the health of the players."
Pires, who is 40, is currently training at Arsenal alongside Thierry Henry but Wenger has ruled out signing the two players in a temporary deal this season.