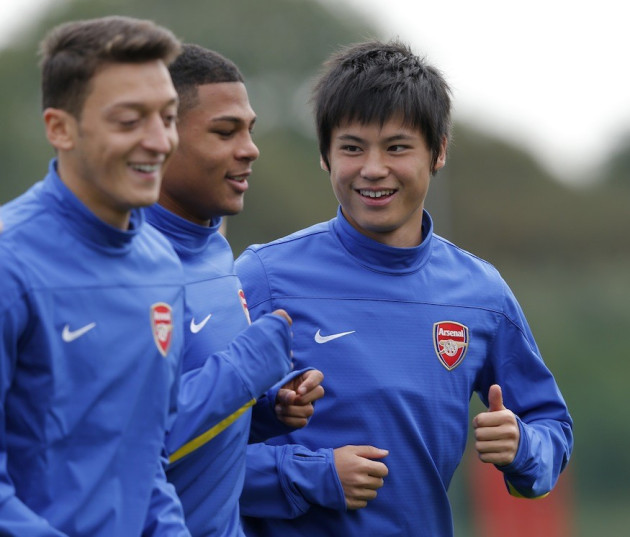 Tomas Rosicky has claimed that Serge Gnabry has made the right choice signing a long-term deal with Arsenal, insisting the 18 year old will become a great player under the guidance of Arsene Wenger.
The Gunners confirmed yesterday that the youngster had signed a new deal with the club keeping him for another five years on a £20,000 per week contract.
The teen is yet another Germany international to commit to north London and Wenger is clearly looking to build on a German core with the likes of Mesut Ozil, Per Mertesacker and Lukas Podolski already in his ranks. And just as the aforementioned trio are flourishing under the manager's guidance, Rosicky believes that he will be the best teacher to help Ganbry reach his potential.
"He is a good dribbler and can take on you on in the one-on one-situations," he told Arsenal.com. "That can be his strong point in the future and for an 18-year-old he is doing very well.
"I think he has a manager here who will develop him and who has a history of developing young players. Nothing better could happen to him than being offered a new contract here.
"He is a very talented boy; 18 years old and he still has plenty of things to learn and he will find no better place to learn than here. I think it works very well for both sides that he stays here.
"He's got a great environment for his growth and the potential and talent is there, so let's see how he will develop."
Gnabry has made a claim for a position in Arsenal's senior squad after making his full debut against Stoke this season. He scored in the north London side's 2-1 win over Swansea last month and he looks to be very much in Wenger's plans for the season ahead.
The attacking midfielder moved from Stuttgart to Arsenal in 2011 and has since been working closely with the Gunners' youth side in order to prep himself for a place with the senior side.